GAINESVILLE FLORIDA DAY TRIPS
Updated April 11, 2021
The Gainesville, Florida day trips and one tank trips described in our website are all within a 100 mile radius of Gainesville.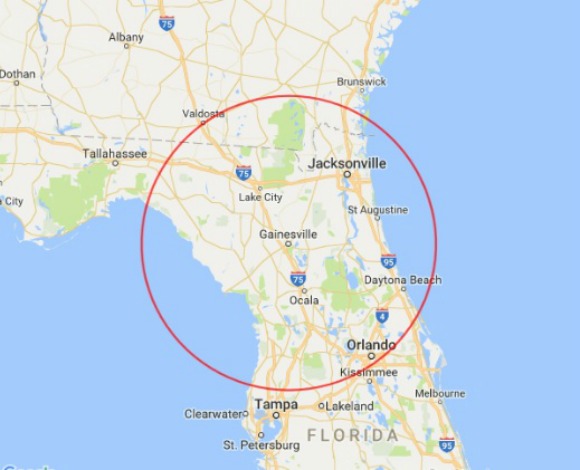 We estimate that the average passenger car can go about 250 miles on one tank of gas, so these trips will get you there and back with a few gallons to spare.
Gainesville itself is a great day trip destination with many interesting places to see and things to do. Check it out in addition to the other neat places.
Gainesville, Florida
Here are some things to do and places to see within 100 miles of Gainesville.

Recommended Gainesville Day Trips
Albin Polasek Museum and Sculpture Gardens,
Winter Park home and studio of American sculptor.
Alexander Springs Recreatonal Area,
Ocala National Forest, canoeing, swimming, kayaking, camping.
Amelia Island Horseback Riding,
Fernandina Beach. You can ride on the Atlantic Ocean beach. Fees vary by selected ride and number of people.
Appleton Museum of Art ,
Ocala, stunning example of classical architecture clad in Italian travertine marble. The 81,610-square-foot museum features 30,000 square feet of gallery space.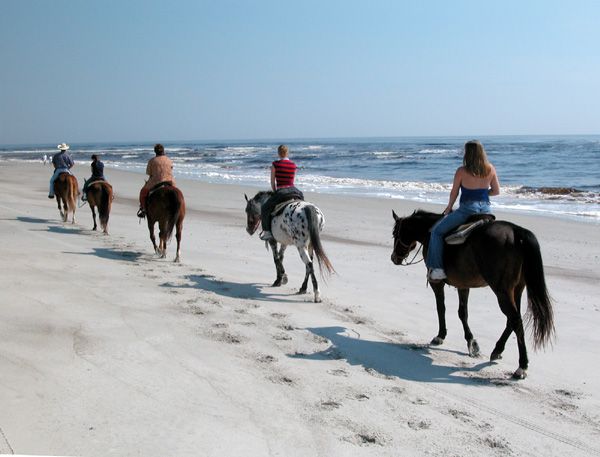 Amelia Island Horseback Riding on the Beach
Blue Spring State Park, 
Orange City park is a tremendous spot to observe manatees sheltering from the cold in the clear waters from November to March.

Bob's River Place,
Branford, rustic attraction on the Suwannee River with water slides, rope swings, docks, waterwheels, ladders: an old fashioned swimming hole.
Boggy Creek Airboat Adventures,
Kissimmee fleet of 12 airboats takes you on a wide variety of tours where you will see wildlife including water birds and alligators.
Cassadaga-Mediums and Healers ,
This small village was established in 1895 by a spiritualist organization and is home to many mediums, psychics, and healers.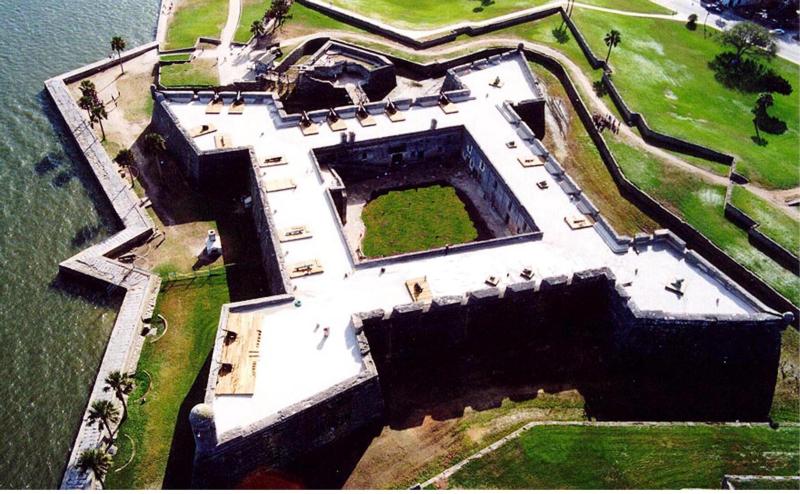 Castillo de San Marcos, St. Augustine
Castillo de San Marcos,
The oldest 17th century fort in North America, this well preserved fort dominates the waterfront in downtown St. Augustine. The oldest 17th century fort in North America, this well preserved fort dominates the waterfront in downtown St. Augustine.

Catty Shack Ranch Wildlife Sanctuary,
Jacksonville non-profit sanctuary that gives big cats a permanent home.  They have lions, tigers, pumas, leopards, lynxes and more. 
Central Florida Railroad Museum,
Winter Garden small museum managed by the Central Florida Railway Historical Society, Inc. It focuses on the railroads of Central Florida.
Cedar Key is on the Gulf of Mexico and was at one time a major Florida port at the end of the state's first railroad.  This quaint village now loves tourists.
Cross Creek is between Gainesville and Ocala.  It was the home of famous author Marjorie Kinnan Rawlings and current home of the Yearling Restaurant.
Crystal River Swim With Manatees,
There are many businesses in this town that will show you the hundreds of manatees that gather here and even let you get in the water and swim with the gentle creatures.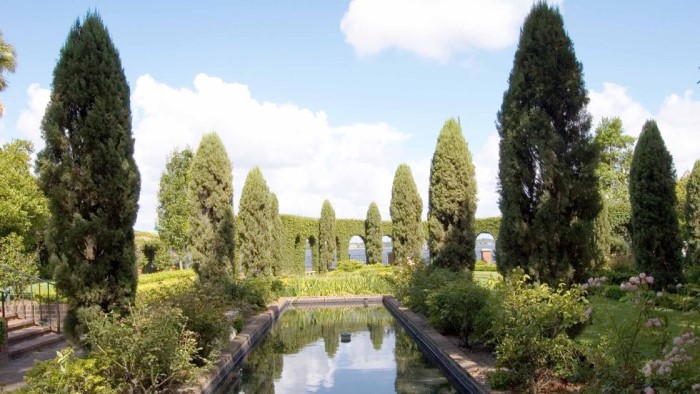 Cummer Museum Gardens
Cummer Museum of Art and Gardens,
Jacksonville.  The Cummer has one of the finest permanent art collections in Florida, with nearly 5,000 objects. 

Dade Battlefield Historic State Park,
Bushnell.  This park was established in 1921 to preserve the site of Dade's Battle of 1835.  Of 110 American soldiers, only 3 survived the ambush by Seminoles.  It precipitated am awful war.
Daytona Beach is home to the International Speedway and beaches you can drive on in your car.

Daytona International Speedway
If you visit during other than the featured events, you can go on a first come-first served tour.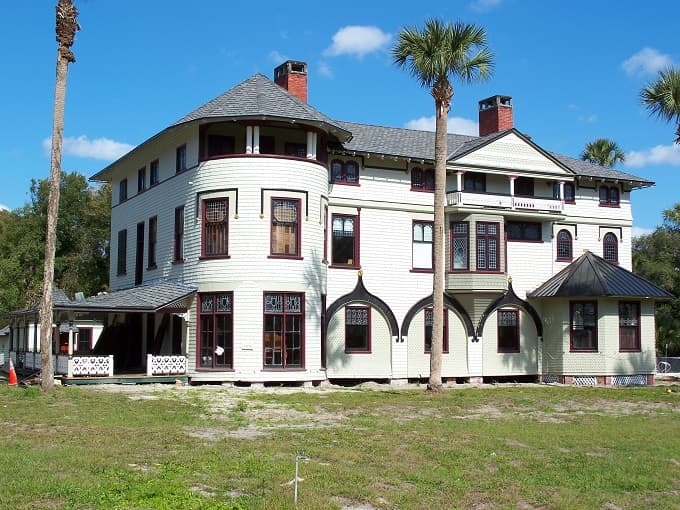 John B. Stetson Home, DeLand
DeLand is home of Stetson University and is loaded with art galleries and good restaurants.
Devil's Millhopper Geological State Park,
Gainesville.  You walk down a 232-step wooden staircase into the bottom of a geological formation that has been attracting visitors for well over a century. 
Disney Springs,
Orlando.  Spend a day to two and this giant outdoor shopping, dining, and entertainment complex at Walt Disney World.
Don Garlits Museum of Drag Racing,
Ocala museum has more than 90 race cars on display and another 50 antique cars.  Garlits is a former champion drag racer. 

Dr. Phillips Center for the Performing Arts,
Orlando 2-block Center includes the Walt Disney Theater, the Alexis & Jim Pugh Theater, the DeVos Family Room, the Seneff Arts Plaza, and many other spaces set aside for private events. 
Epcot,
Walt Disney World Resort.   One of 4 theme parks at WDW, this is a park that celebrates human achievement in technology and culture.
Fantasy of Flight,
1400 Broadway Blvd SE, Polk City, FL 33868. Tel: 863-984-3500.  A display of more than 140 civilian and military planes and many of them can fly.  Tours and learning about aviation history.
Farm Tours of Ocala,
Ocala 3 hours and 15 minute tour of working farms where you can go behind the scenes and chat with pros who work with thoroughbreds.

Flagler College (Ponce de Leon Hotel)
St. Augustine hotel was built by railroad tycoon Henry Flagler in 1888 and is a National Historic Landmark.You can take a tour and explore.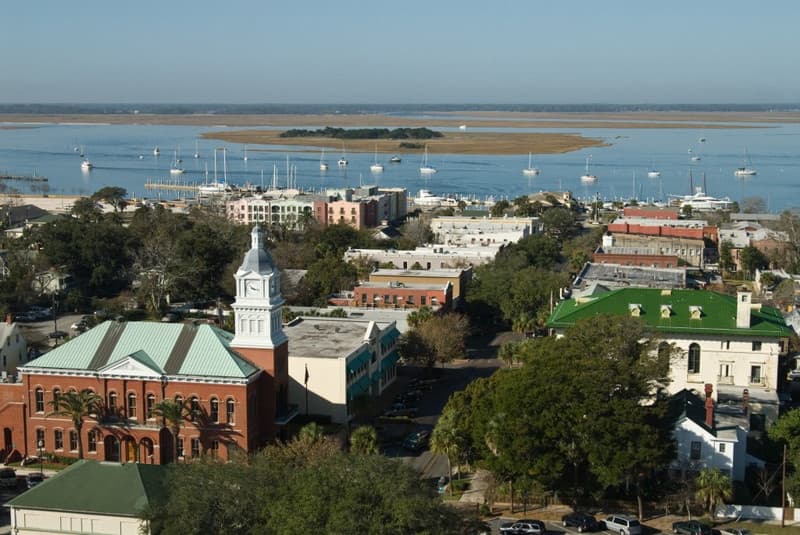 Fernandina Beach
Fernandina Beach  is a port city and one of the state's oldest. It has a lot of history, and old fort and great beaches.
Flagler Beachfront Winery  is north of Daytona and is a fun place to visit while you visit the great sand beaches.
Florida Museum of Natural History  is at the University of Florida, and has a huge collection of natural history items.
Fort Clinch State Park,
Fernandina Beach park has 1,400 acres of natural beauty and a historic fort that sometimes has rangers dressed in period military uniforms.
Fun Spot America,
Orlando attraction on International Drive has 4 different go-kart tracks and 3 roller coasters, plus another 3 different thrill rides. 
Gatorland,
Orlando, one of Florida's oldest attractions, it still entertains with thousands of alligators and a thrilling canopy ride. 
Ginnie Springs Outdoors  is a privately owned campground that also has cottages and great canoeing, kayaking and diving. Super clear waters add to your enjoyment.
High Springs is a small town west of Gainesville with some good antique shops and restaurants. It is center of spring country.
Ichetucknee Inner Tube Trip
Ichetucknee Springs State Park. A Florida tradition for years, floating down the clear cool river.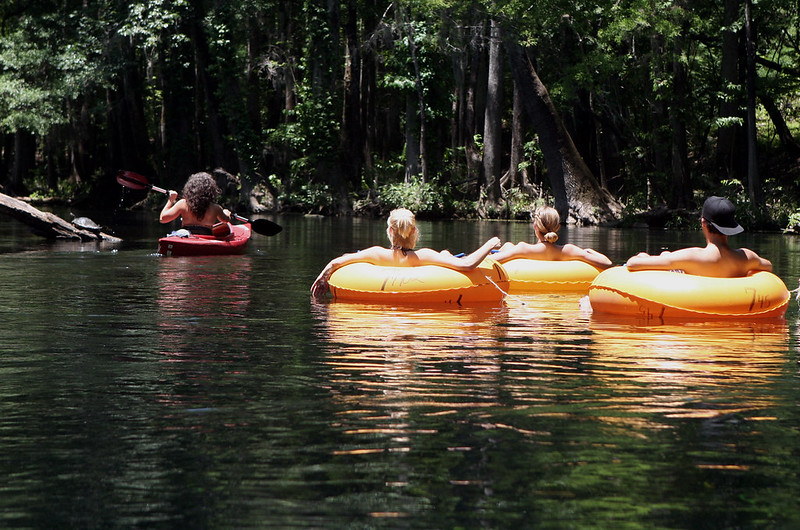 Tubing on the Ichetucknee River
ICON Orlando, 
A giant 400 foot tall observation tower in the shape of a Ferris Wheel with separate enclosed air conditioned observation capsules. 
Jacksonville  is one of the south's major cities and straddles the majestic St Johns River.  
Jacksonville Day Trips  is a page on this website that covers many of the destinations on this page and more.

Jacksonville Museum of Science and History,
Interactive exhibits about your body's systems, energy exhibits, and animal encounters. Also a boat tour on the St. Johns River.  
Jacksonville Zoo , 
 This historic zoo is organized around several major exhibits. You will see dozens of exotic birds, crocodiles, antelopes, cheetahs, zebras, elephants, lions, monkeys, and you can feed a sting ray.  
Kanapaha Botanical Gardens  is an unusual display of natural vegetation and trees in Gainesville.
Kingsley Plantation,
Jacksonville. Located on Fort George Island are the owner's house built around 1798 and the remains of 25 slave cabins.

La Chua Trail, Paynes Prairie  is a preserve where you might see horses, bison, wading birds, gators, and more.
Lake City  has many historic homes and buildings and is near some Civil War battlefields.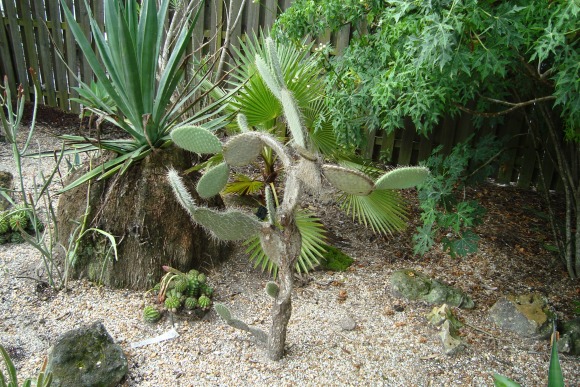 Leu Gardens, Orlando
Leu Gardens  in Orlando is one of the finest botanical gardens in Florida.
Live Oak  is a small Old Florida town with many historic buildings and homes.
Log Cabin Winery  is near Satsuma on the St Johns River and you can taste their wine and take a tour.
Marineland  was one of the earliest Florida tourist attractions that is now a dolphin research center.
Mayo  does not have a lot to see, but it is the hometown of Florida Gator folk hero Kerwin Bell. There is no clinic here; the Mayo Clinic is in Jacksonville.
Madison  is one of the oldest towns in north Florida and has done a good job of hanging onto many of its old buildings.
Marjorie Kinnan Rawlings Historic State Park, 
Cross Creek. You will experience what 1930s farm life was like when the famous author lived and worked here. Her Florida Cracker style home and farm has been restored and is preserved.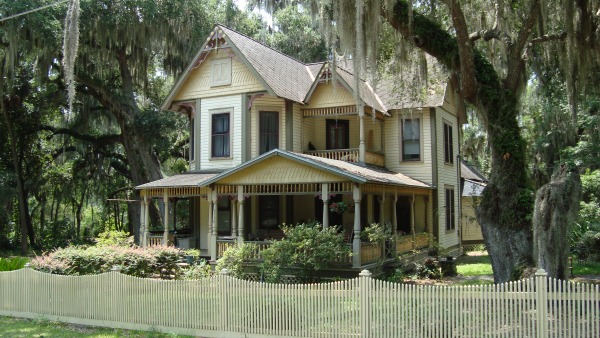 Home in McIntosh
McIntosh  has a population of only 469 people but has almost 70 buildings in its designated historic district.

Melrose  is a small Victorian village near Gainesville with historic buildings and a fine restaurant.
Menello Museum of American Art,
Orlando museum's mission is to preserve, display, and interpret the permanent collection of paintings by Earl Cunningham, a folk artist who painted mostly coastal landscapes of America's Atlantic Coast. 

Micanopy  is a historic tiny town named for a great Seminole chief. Nice antique stores and restaurants.
Mount Dora  is in rolling hill country on beautiful lakes and is one of the antique centers of the state.

North Central Florida Day Trips  is a page on this website that has maps showing several day trip driving routes in the area around Gainesville and the region.
Mill Creek Farm Retirement Home For Horses,
Alachua. Old horses wear out just like people. These horses used to pull carriages, support police forces, and just work. Here they can spend their senior years on a nice rolling horse farm. 
Newberry is a rural town west of Gainesville that has a typical Old Florida downtown feel to it.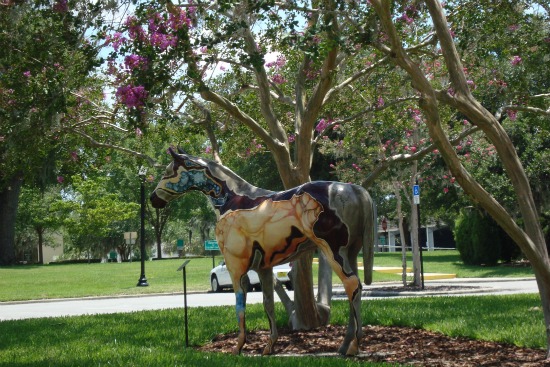 Thoroughbred Horse Statue in Ocala
Ocala  is a good sized city surrounded by thoroughbred horse farms and rolling pasture land.
Oldest House Museum Complex,
The Oldest House Museum Complex is located across from the historic National Guard building in downtown St. Louis. Augustine.
Olustee Battlefield Historic State Park,
Site of a significant Civil War battle. US Colored troops took part in the battle. You can see exhibits and artifacts in the visitor center.
Orange County Regional History Center.
The Orlando museum celebrates Central Florida history all the way from the first Native Americans to today's giant theme parks. 
Orlando  is home to Florida's major theme parks, but also has many quiet and historic neighborhoods away from the noise.

Orlando Science Center,
777 E Princeton St, Orlando, FL 32803. Tel: 407-514-2000. It teaches science and makes sure kids have fun doing it. A large facility with 4 floors of science exhibits, giant screen movie theaters, and live programming, exhibit halls and science stations. 
Ponce Inlet Lighthouse and Museum
Orlando Significant Tree Tour.   
Various city parks each feature ancient giant trees. It is a self guided tour and our website provides you with a map. Free.
Paynes Prairie Preserve State Park
100 Savannah Blvd., Micanopy, FL 32667. Tel: 352-466-3397. A 22,000 acre savannah with a wide variety of wildlife including bison and horses in addition to hundreds of bird varieties.
Ponce de Leon Inlet Lighthouse
Ponce Inlet lighthouse is on an inlet south of Daytona Beach. You can climb to the top and see a fantastic view of the ocean and beaches.  

Princess Place Preserve  is a historic lodge in a natural setting near the Palm Coast.
Rainbow Springs State Park,
Dunnellon. At the park's main entrance you can swim in the freshwater Rainbow River, rent canoes and kayaks, view waterfalls and gardens and enjoy a picnic area with grills, and pavilions.
Silver Springs State Park,
This long time popular tourist attraction with glass bottom boats is now operated as part of Silver Springs State Park.
St Augustine  is America's oldest continuously occupied city and has preserved many of its old buildings.
St Augustine Alligator Farm  is on the National Register of Historic Places. It's a Gainesville Florida day trip with gators galore and a zipline too.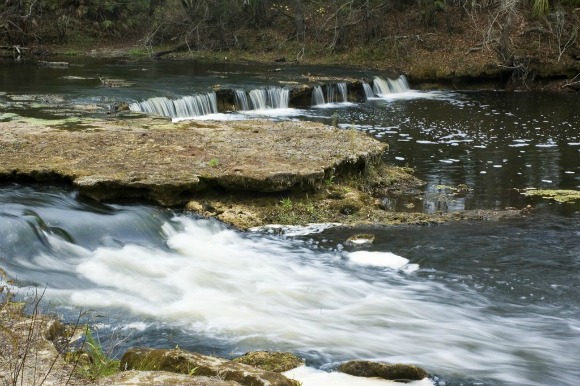 Steinhatchee Falls
Steinhatchee  is a fishing village on the Gulf of Mexico near the mouth of the Steinhatchee River.

Stephen Foster Folk Culture Center State Park is a natural slice of Old Florida. It has many folk culture exhibits and is the setting every Memorial Day weekend for the Florida Folk Festival.
Suwannee is a small fishing village near the mouth of the Suwannee River on the Gulf of Mexico.
The Villages is a modern retirement community for active adults and has more than 60,000 golf carts rolling around.  We also have a web page similar to Gainesville Florida day trips that focuses on trips from here.
Trenton is a small town west of Gainesville with a typical Old Florida downtown area and homes.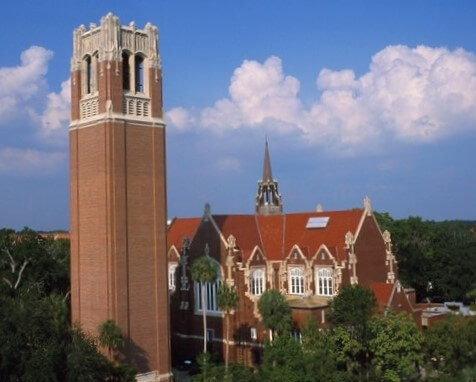 Century Tower at the University of Florida
University of Florida is home of the Fightin Gators and was once the largest university in the state.
Walt Disney World is on everybody's list of places to visit while in Florida. There are 4 theme parks for you to visit.
Whispering Oaks Winery  is near the Villages and specializes in wines made from blueberries.
White Springs is a small town in North Florida that is home to the Stephen Foster Folk Culture Center State Park.
Wood and Swink is a historic general store in Evinston that is like a step back into the past. It also serves a local post office.
---
---
THEME BASED FLORIDA DAY TRIPS
If you are interested in particular themes, there are many places to enjoy in and out of the 100 mile radius. Examples of themes are " beaches", "seashells ", " zoos " " historic buildings ", " rockets ", "l ighthouses ", and at least 20 others. Click below to learn more.
250 FLORIDA DAY TRIPS BY THEME
---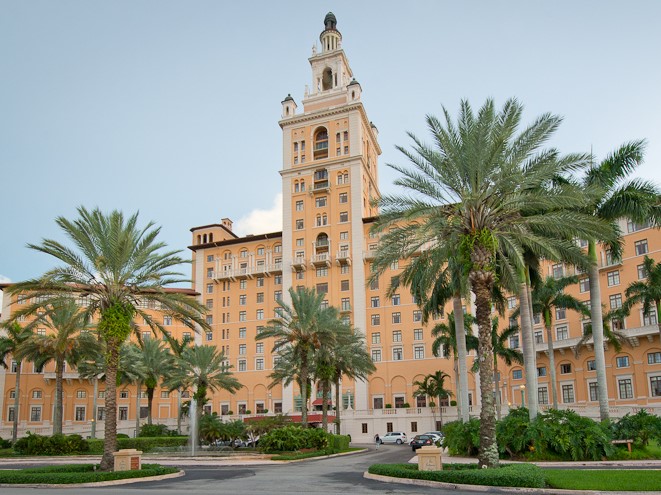 Biltmore Hotel, Coral Gables
---
---
---

Our Facebook page has more than 114,695 followers who love off the beaten path Florida: towns, tourist attractions, maps, lodging, food, festivals, scenic road trips, day trips, history, culture, nostalgia, and more.  We post articles every day.  Please check it out and if you like it, we would appreciate a "like" from you.
---
SUBSCRIBE TO OUR FREE EZINE
---
Florida Back Roads Travel is not affiliated with or endorsed by Backroads, a California-based tour operator which arranges and conducts travel programs throughout the world.
By Mike Miller, Copyright 2009-2021 Florida-Back-Roads-Travel.com
Privacy Policy
Sours: https://www.florida-backroads-travel.com/gainesville-florida-day-trips.html
Cities near Pueblo, Colorado:
The center of each city listed is within 94 miles of Pueblo, CO.
Scroll down the page to find a list of big cities if you're booking a flight between airports, or a list of smaller surrounding towns if you're doing a road trip.
Map of local cities around Pueblo, CO
Major cities near Pueblo, CO
This is a list of large cities closest to Pueblo, CO. A big city usually has a population of at least 200,000 and you can often fly into a major airport. If you need to book a flight, search for the nearest airport to Pueblo, CO. You can also look for cities 4 hours from Pueblo, CO (or 3 hours or 2 hours or 1 hour) or just search in general for more cities near Pueblo, CO.
More trip calculations
Local towns near Pueblo, CO
This is a list of smaller local towns that surround Pueblo, CO. If you're planning a road trip or exploring the local area, make sure you check out some of these places to get a feel for the surrounding community. You can also search for cities 100 miles from Pueblo, CO (or 50 miles or 30 miles).
Nearest cities
Travelmath helps you find cities close to your location. You can use it to look for nearby towns and suburbs if you live in a metropolis area, or you can search for cities near any airport, zip code, or tourist landmark. You'll get a map of the local cities, including the distance and information on each town. This can help in planning a trip or just learning more about a neighboring city so you can discover new places.
Sours: https://www.travelmath.com/cities-near/Pueblo,+CO
Cities near New York, New York:
The center of each city listed is within 8 miles of New York, NY.
Scroll down the page to find a list of big cities if you're booking a flight between airports, or a list of smaller surrounding towns if you're doing a road trip.
Map of local cities around New York, NY
Major cities near New York, NY
This is a list of large cities closest to New York, NY. A big city usually has a population of at least 200,000 and you can often fly into a major airport. If you need to book a flight, search for the nearest airport to New York, NY. You can also look for cities 4 hours from New York, NY (or 3 hours or 2 hours or 1 hour) or just search in general for more cities near New York, NY.
More trip calculations
Local towns near New York, NY
This is a list of smaller local towns that surround New York, NY. If you're planning a road trip or exploring the local area, make sure you check out some of these places to get a feel for the surrounding community. You can also search for cities 100 miles from New York, NY (or 50 miles or 30 miles).
Nearest cities
Travelmath helps you find cities close to your location. You can use it to look for nearby towns and suburbs if you live in a metropolis area, or you can search for cities near any airport, zip code, or tourist landmark. You'll get a map of the local cities, including the distance and information on each town. This can help in planning a trip or just learning more about a neighboring city so you can discover new places.
Sours: https://www.travelmath.com/cities-near/New+York,+NY
The Creepiest, Coolest Ghost Town in Every State
Compared to the ancient ruins in Mexico and lost-and-found civilizations across Europe and Asia, the abandoned ore mines, mill towns, and Wild West outposts of the US look downright modern. As a young country, America's abandoned settlements reflect a history only a few generations removed from today. They're endlessly fascinating. And often really, really creepy.
Amid the crumbling walls of America's coolest ghost towns, you'll find glimpses into each state's history—stories of tremendous booms and unfathomable busts. They're the victims of time, yes, but also of greed, changing roadways, and old-fashioned karmic retribution.
Some are restored villages humming with tourists. Some have rich histories of fleeting prosperity. Others take the designation of "ghost town" literally, with restless spirits rumored to relive past tragedies and atrocities nightly. Whether they're roadside stop-offs of full-fledged attractions, each offers a side trip through time along America's roadways. These are our favorites.
Alabama: Spectre
Spectre is perhaps the newest ghost town in America, and one of the weirder entries on this list. Director Tim Burton spent six months on Jackson Lake Island building the fictional, idyllic town of Spectre for his 2003 movie Big Fish. Afterward, landowners declined to tear it down and now charge $3 to tour what is essentially a ghost town. Only here, rather than a dusty old stretch of saloons, it's a lush movie set, albeit in a state of decay: Much of it's a facade and falling apart, but the designs are rich in detail with a full main street and surrounding "Enchanted Forest." Don't be surprised to see a herd of goats roaming the streets. Don't worry. They're locals. —Rob Kachelriess
Alaska: Kennecott
Copper lured brave miners to this remote Alaskan outpost after two prospectors stumbled upon $200 million worth of the metal while resting their horses in the early 1900s. At its peak, one of Kennecott's five mines contained the world's richest copper concentration, aptly named "Bonanza." By 1938, however, the copper supply was running low enough that the mines shuttered and the boomtown went bust. Today, it's a National Historic Landmark in the heart of the massive Wrangell-St. Elias National Park. Its iconic red mill on the hill spans 14 stories above a glacier and can be explored by visitors who take the official Kennecott Mill Town Tour. —Kyler Alvord
Arizona: Ruby
This once mineral-rich town near the southern border—where prospectors flocked for zinc, copper, silver, lead, and gold—was named after the wife of general store owner Julius Andrew. But if you think that it's all wholesome namesakes and mining, well, perhaps reading the book Ruby, Arizona: Mining, Mayhem & Murder will give you a better idea of what life was like in this busy town before water issues pushed most of its inhabitants out in the '40s. The Ruby Mercantile—site of the grisly crimes that give the book its name—still stands, along with a restored school, warehouse, and courthouse. —Andy Kryza
Arkansas: Rush
Rush was founded in the late 1800s as a mining community along the banks of what is now the Buffalo National River in the Ozark Mountains. Zinc ore was in high demand with production peaking during World War I. However, by the '60s, its residents were long gone, ending a pretty spectacular run for a boomtown, which for the most part tend to live in cat years. The leftover homes and mining ruins, maintained by the National Park Service, endure as a fascinating detour while camping in the park or floating the river. —RK
California: Bodie
The largest unreconstructed ghost town in America has a story that reads like Boom Town 101: Founded in 1859. Gold. Mines. Miners. Red Light District. Saloons. And by 1942, all 2,000 (!!) buildings in the town were empty. But thanks to its designation as a National Historic Site, an obscene number of those buildings remain in a state of "arrested decay": they only receive necessary maintenance that prevents them from collapsing. That means the explorable city's saloons still have balls on the pool table as if abandoned mid-game and the grocery remains stocked with extremely perished canned goods. —KA
Colorado: St. Elmo
Founded in 1880, St. Elmo this highfalutin whistle-stop and mining town was home to 2,000 residents, 150 mines, and enough hotels, brothels, saloons, and dance halls to keep everybody in town entertained. When the Alpine Tunnel closed in 1910, however, the party ended, and the last train whistled out in '22. Yet despite decades of abandonment and numerous fire threats, St. Elmo remains one of America's best-preserved ghost towns. Several original structures are still intact, providing an unfiltered glimpse into life during the mining boom. Present-day visitors can tour the old mining roads in ATVs, fish along Chalk Creek, stay in a historic cabin, and shop from a general store that's open through the summer. —Kastalia Medrano
Connecticut: Gay City
Connecticut is home to the remarkably restored mill town Johnsonville and the seriously dilapidated 500-year-old Dudleytown, though both are on private property (plus, Dudleytown is apparently a dark Vortex completely overrun with demons, so there's that). Gay City is neither immaculately restored nor teeming with Satan's legion, but it is accessible as part of Gay City State Park. Here, stacked stone structures in the forest offer a look at a town, the chimneys and walls serving as skeletal remains of rotted-away buildings cloaked in moss. Oh, there's also rumored to be ghosts. This is, after all, a town where the blacksmith was rumored to have a thing for decapitation. Connecticut, it appears, is not messing around in the nefarious spirits department. —AK
Delaware: Woodland Beach
The northeast is full of great Atlantic vacation towns, but Woodland Beach never quite took. The secluded beachfront once had a resort and roller coaster that stretched over the water, yet a lack of interest and severe weather put an end to the fun. Little remains today, although the beach is still revered by locals, especially those who like to fish from the pier. Look around and you may spot an abandoned lighthouse, small wooden shipwreck, and leftover ruins of an old dancehall. Fair warning: the muggy weather and view of a nuclear power plant in the distance can be a buzzkill… unless you're a scouting agent working on an American remake of Netflix's Dark. —RK
Thrillist TV
Florida: Fort Dade
Located on Egmont Key near St. Petersburg, Fort Dade was built on the heels of the Spanish-American War in 1858. At its peak, it included 300 residents with about 70 buildings, including a movie theater and bowling alley, not to mention electricity and telephones—fancy stuff for the era. Fort Dade was deactivated in 1923 and although the lighthouse is still in operation, the rest of the town is in ruins, with deteriorating brick roads and staircases leading to military batteries that no longer protect Tampa Bay. To visit, catch a ferry from Fort DeSoto Park. —RK
Georgia: Scull Shoals
With a name tailor-made for a creepy abandoned place, buried in Chattahoochee-Oconee National Forest near the Tennessee border is the remnants of a ghost town that was once home to Georgia's first paper mill, before flooding and soil erosion made everybody realize it was a pretty shitty place to live. You can still see the mill building and assorted chimneys that heat nothing through a fence, but stay on all the marked trails if you're gonna hang around this abandoned village: there's still hunting allowed in the area. —Mike Jordan
Hawaii: Kalaupapa
This remote community started as a leper colony in 1866, housing some 8,000 in quarantine until 1969, when—two decades after Hansen's disease was cured—the state gave residents the option to live out their lives in Kalaupapa or reintegrate with society. Decades later, the peninsula is now a national historic park, one that requires advance planning to visit. It rests at the base of some of the world's highest sea cliffs; there are no hospitals, stores, or overnight accommodations; and the dwindling community can only be reached by small aircraft, authorized boats, or on a strenuous hike by foot or on muleback. The few who have visited encounter breathtaking views, plus a number of churches, more than 15 cemeteries, homes, and a post office that somehow hasn't closed yet. —KA
Idaho: Bayhorse
A mountain town then overflowing with silver, lead, and copper, this Salmon River city became a hot spot in 1864, housing a blacksmith, general store, school, and church. There was even a three-story stamp mill and a Wells Fargo outpost to help everybody manage their riches. However, freight costs were high, and the ride was over by 1879. Nowadays, you can safely see it from the sidewalk, which is tested for safety, but visitors aren't allowed inside the buildings due to contamination from the arsenic and mercury used to separate the metals. Smaller ghost towns Bonanza and Custer in the neighboring Salmon-Challis National Forest are about an hour drive from Bayhorse, in case you want to play ghost town bingo. —RK
Illinois: Old Joliet Prison
No, it's not a city. But it might as well be: There are 20 buildings within these forbidden walls just outside of Chicago, giving it a sinister, castle-like aurora. Built by convict labor with limestone quarried on-site, the Joliet Correctional Center (as it's officially named) operated from 1858 to 2002. There were a few fires over the year, including at least one arson, and some areas were eventually deemed unsafe for prisoners. The prison was abandoned after closing but reopened for tours in 2018. Notorious murder clown John Wayne Gacy was probably the most notorious resident, but the facility raised its profile even higher as a Blues Brothers filming location. —RK
Indiana: Sloan
Indiana is apparently home to more than 50 ghost towns, though most of them are so ghostly that there are no structures remaining, only the wayward cemetery or traces of foundation buried in the ground. But Dunn—a tiny and extinct town in the northwestern corner of Hoosier Country that sported a post office and two general stores during its 6-year lifespan (1907-1913)—stands simply due to the fact that the only thing creepier than a cluster of century-old abandoned grain silos is those same silos casting a shadow over abandoned train tracks. —AK
Iowa: Gitchie Manitou State Preserve
Tucked tightly in the far northwest corner of Iowa, the Gitchie Manitou State Preserve is closer to Sioux Falls, South Dakota than any major Iowa city. The 91-acre park is beautiful but eerie, with woodlands, wetlands, and a prairie dotted with bright pink Sioux quartzite and at least 17 Native American burial mounds. The ruins of a brick post office, now covered with an overwhelming amount of graffiti, was part of Gibraltar, an old settlement by the Big Sioux River crossing. The park's haunted reputation dates back to 1973, when three brothers killed four teenagers before being sentenced to life in prison. Unrelated, there are ample campsites available to visitors! —RK
Kansas: Elk Falls
Elk Falls embraces its unremarkable loneliness, billing itself as the "largest living ghost town in America." More serene than spooky, a historic iron-truss bridge spans the Elk River near the town's namesake falls. There's also an old one-room schoolhouse, cemetery, and pottery shop renovated from an abandoned farmstead formerly called the Rock Garden. However, the southeast Kansas settlement is most famous (or infamous) for its annual Outhouse Tour, a two-day mini-festival with decorated outhouses on display throughout the extremely tiny community. —RK
Kentucky: Blue Heron
Blue Heron was a coal town near the Big South Fork National River that operated from 1937 to 1962. It was abandoned for years and rebuilt in the 1980s to preserve its history. The "ghost structures" include a coal tipper, train depot, and school. Exploring the old mines and creaky buildings with flashlights is fun, but the best way to visit is by taking the annual Ghost Tour Train, which happens just once a year every autumn. —RK
Louisiana: Longleaf
Despite having a rich history, Louisiana is surprisingly low on ghost towns that haven't been completely lost to the elements. An exception is Longleaf, an old sawmill town that helped the south rebuild its economy following the Civil War. By 1969, business stalled and workers were fired without warning (on Valentine's Day, no less). The population dwindled and the 50-acre site fell into disrepair for decades. The leftover buildings are now enjoying a new life as the Southern Forest Heritage Museum, with the old mill used for weddings and other events. A trio of steam-powered locomotives no longer work, but you can ride two miles of track on a small railbus. —RK
Maine: Perkins Township
Swan Island is the main feature of Perkins Township, a ghost town in the Kennebec River that's only accessible by kayak, canoe, or a five-minute ferry ride. Once inhabited by Native Americans, later used by explorers for farming and ice harvesting, and eventually popularized as a summer getaway (even visited by Aaron Burr and Benedict Arnold), Perkins underwent several phases before the 20th century. In the early 1900s, the town was disincorporated, and following the Great Depression and increased pollution in the Kennebec River its usefulness vanished, leaving the nature-rich island practically vacant by the 1940s. Nearly a century later, visitors can camp, hike, hunt, fish, see structures from the 1700s, and look out for native wildlife like bald eagles and white-tailed deer. There's also an old cemetery, if you'd like to pay respects to the people left behind. —KA
Maryland: Daniels
Originally founded in the 1830s, the town was renamed after the C.R. Daniels company, which bought the land and took over the textile mill. Instead of bringing the facility up to code in the 1960s, the company evicted Daniels' tenants and the mill closure effectively demolished the town. Karma played out a few years later when Tropical Storm Agnes wiped out most of what was left. Although the mill is now out of sight on private property, you can still explore much of the land as part of Patapsco Valley State Park. The gothic Saint Stanislaus Kostka Catholic Church, struck by lightning in 1927, is down to just a couple walls of stone, and a cemetery. You'll also spot a couple of railroad bridges, scattered foundations, and staircases that go nowhere. There's even a car left behind by flooding. Still, a dam for the mill remains in place and the river is popular for canoeing and kayaking. —RK
Massachusetts: Dogtown
Massachusetts is full of old abandoned places, but there's just something cool and creepy about Dogtown. At first glance, there's not much to see—just a thicket of woods and walking trails in a Cape Ann park. Take your time and you'll stumble across leftover stones and cellar holes from an old colonial-era town known for its population of witches, prostitutes, and other hoodlums. (In case you're wondering, the name comes from the wild dogs that roamed the streets.) The reservoir view is a nice bonus. Large boulders with inscriptions like "If work stops, values decay" and "Help mother" were meant to be inspirational during the Great Depression, but come across as oddly Orwellian today. —RK
Michigan: Fayette
Despite being home to one of the best road trips in the US, Michigan's Upper Peninsula is a pretty isolated place (and that's how the Yoopers like it). But Fayette was an early settlement that actually beamed with life. Established in 1867, it was a hub of the iron rush along the limestone bluffs of the southern Garden Peninsula. Alas, like temperatures over 70 degrees, it didn't last long. The ruins of Fayette now reside in a state park, with nearly 20 remarkably sturdy buildings still standing, including a hotel, opera house, and a definitely-not-creepy industrial furnace complex whose eerie, towering brick frontage serves as a brutal contrast to the deep-blues of the shore from which it rises. —AK
Minnesota: Forestville
Forestville was doing pretty well for a while in the mid-1800s. The southeastern town had hotels, shops, and a couple of mills. Then it all fell apart when a new railroad bypassed the town in 1868. As population centers developed elsewhere in Southeast Minnesota, businesses closed and the area descended into ghost town status. Fortunately, it's been preserved and restored in Forestville State Park with a farm, bridge, and fully-stocked general store. Feel free to also tour the 13-mile Mystery Cave, the longest known cave in the state. —RK
Mississippi: Rodney
Built on the cotton trade and slave labor in nearby plantations, Rodney was a thriving port town on the Mississippi River in the mid-1800s and saw its share of Civil War gunfire. Before all that, it was actually three votes away from being named the state capital. Eventually, the river shifted course away from the town and the population dwindled. Prone to flooding, much of Rodney has been washed away over the years, leaving behind a haunting, historic ghost town. A few buildings remain, including the Zion Baptist Church and a dilapidated cemetery. The most notable structure is the two-story Presbyterian church, which still has much of its interior in place behind broken windows. —RK
Missouri: Red Oak II
After World War II, Red Oak was left to wither, vacated by residents seeking bigger and brighter locales. When former resident Lowell Davis moved back to the area in the '80s, he was sad to learn that the places from his youth were wasting away... so he bought the abandoned buildings and moved them to his property about 20 miles away. Davis restored all the notable structures from his childhood, including his grandpa's blacksmith shop and his father's general store. He dubbed the cornfield-turned-refurbished ghost town Red Oak II, and now it's a full-blown attraction, boasting a town center, a schoolhouse, a diner, a jail, a Phillips 66 gas station, houses, artifacts from other abandoned towns, and original art pieces created by Lowell himself. Part ghost town, part art installation, and part outdoor museum, it's a colorful look at rural life before desertion. —KA
Montana: Virginia City
Former home of the famous frontierswoman Calamity Jane, this old gold-mining town (est. 1863) was known as a hub of lawlessness. Still, it briefly served as the capital of the pre-statehood Montana Territory (the capital was formerly in Bannack, another excellent ghost town) and grew to a population of around 10,000. When the gold ran out, the city lost momentum and became the Victorian-era time capsule it still is today. Along with restored original buildings and live music performances, Virginia City's got plenty going on for tourists' enjoyment. Want ghost stories? You've got 'em. Fascinated by trains? There's a scenic railway. Like luxury? Ride in style to the most important historic spots. Prefer novelty? Learn about the town on an old fire truck. It's basically Westworld, minus the gross sex stuff and emo murder bots. —KM
Nebraska: St. Deroin
The settlement of St. Derion ran a ferry service across the river separating Missouri from southeast Nebraska in the late 1800s. However, the economy turned south as more people turned to rail travel, and by 1911 a series of floods washed most of that good fortune away. Today, recreations of a log cabin, schoolhouse, and general store provide a glimpse of what life was like when settlers were exploring the Old West. St. Deroin is popular with hikers passing through Indian Cave State Park and remains a source of folklore and spooky stories. The creepiness is elevated by the presence of two cemeteries. —RK
Nevada: Rhyolite
Founded in 1904 and perched on the edge of Death Valley, Rhyolite managed to become the third-largest city in Nevada, complete with hotels, a hospital, an opera house, a symphony, a red-light district, and its own stock exchange. But all good things must come to an end, and in Rhyolite's case, the Panic of 1907 hammered the first nail in the coffin, causing banks to fail, mines to close, and newspapers to shutter. By 1916, it was deserted. Visitors will still see the skeletons of a three-story bank, part of the old jail, the general store, and the train station. Just outside of town lies another notable attraction: the free and open-to-the-public Goldwell Open Air Museum, perhaps the oddest roadside attraction in a state known for its off-highway weirdness. —KM
New Hampshire: Monson Center
As an early New England settlement in the 1700s, Monson Center was originally part of Massachusetts, but the land wasn't suited to agriculture and was abandoned. The only home that remains, the Gould House, is now a small museum. Visitors can also explore old stone walls, cellar holes, and trails for hiking, biking, and dog walking in the surrounding park. Some ghost towns are spooky. This one is serene. —RK
New Jersey: Batsto Village
Predating the American Revolution, Batsto Village is on two sides of a scenic lake deep in central Jersey's Wharton State Forest. As far as ghost towns go, this one has been incredibly well-preserved, with rickety, wooden worker homes contrasting with a castle-like steepled mansion to highlight the differences between the haves and have-nots. The local economy was driven by an ironworks operation that made big bucks during the Revolution, but the 32-acre site also includes a dam, wheelwright shop, general store, and two mills. Sadly, we assume, the pre-colonial Dunkin' has been lost to time. —RK
New Mexico: Dawson
After becoming a promising company town for Dawson Fuel Co. in 1901, Dawson was rocked by a series of explosions: Three lives were lost in 1903, over 250 perished in 1913, and 123 died in 1923. After that, the town's population dwindled from 9,000 to zero. Today, this ghost town features more ghosts than town: The only notable landmark left is the Dawson Cemetery, where a sea of white crosses represents the nearly 400 people who died in the mine explosions. Visitors report seeing phantom mining-helmet lights and hearing moans, in addition to spotting specters among the graves. As such, it's been declared one of the most haunted places in America. So, um, have fun with that! —KA
New York: Tahawus
Deep in the wilds of Upstate New York, you expect to encounter a lot of things, though typically the most jarring is a wayward Brooklynite shilling overpriced jams at a repurposed general store. But up near Newcomb, buried in the Adirondacks of Essex county, you'll discover the lost town of Tahawus, which served as an ore-mining center in the early 1800s, but gradually fell to decay. The mining town's verve is long extinguished, but you can still explore the remains of turn-of-the-century homes and the spooky shells of former blast furnaces, which definitely don't come alive with the sounds of spectral pickaxes late at night. —AK
North Carolina: Brunswick Town
Lots to unpack here. Brunswick offers a unique glimpse into the history of both the American Revolution and the Civil War. After establishing itself as a Cape Fear River port town, the community was destroyed by the British in 1776. Left in ruins, it was turned into Anderson Fort as a stronghold for the confederate army in 1862. Between the foundations of colonial structures and what's left of the fort, it's a fascinating trip through time. The site was creepy enough to be used as a shooting location for the Sleepy Hollow TV show. —RK
North Dakota: Arena
South Dakota might have the more famous ghost towns, but the quieter Dakota brings some serious game in smaller doses, mostly harkening to the railway days. Many of these towns share the common feature of dilapidated schoolhouses, which somehow persevere after decades of being battered by the prairie winds and shows. Charbonneau has a particularly eerie one, but its real highlight is two wooden grain elevators rising from the chaff near the Montana border, twin monoliths from the town's peak in the 1910s whose design makes them appear more like Colonial-era churches flanked by rolling plains. —AK
Ohio: Moonville
Nothing to see here: Just some crumbling foundations and an old cemetery tucked into the lush Zaleski State Forest. In fact, the most notable feature in this deserted southeastern outpost is a huge, dark, brooding train tunnel opening like a hellmouth into the forest of southeast Ohio. Oh, and inside there's rumored to be an entire cadre of ghosts, among them dearly departed train workers, the mangled corpse of a bully who loves to give people bear hugs, and a woman in lavender with a habit of disappearing into thin air. Which is to say, if you're looking to visit this ghost town, the cemetery is somehow the less terrifying option. —AK
Oklahoma: Shamrock
The Irish spirit remains strong in Shamrock, even if only a handful of people are still around to celebrate it. Old empty buildings line Tipperary Road, formerly a hub of activity and excitement during the rush for Oklahoma oil in the early 1900s. The last occupied building (half-painted green, of course) on the downtown strip is now a museum that glorifies the town's history, both before and after the last proverbial milkshake was drunk. Don't leave without a trip to the Blarney Stone, a large rock (also painted green) that serves as Shamrock's unofficial selfie station. —RK
Oregon: Shaniko
Smack in the middle of Oregon, Shaniko was a shipping hub known as the Wool Capital of the World. That didn't last. After 10 years as an incorporated town, Shaniko dried up in 1910, the victim of a new rail line and wildfires. A very small handful of people still occupy the, but it's been officially called a ghost town since the '50s. The Shaniko Hotel was—and continues to be—the town's main attraction. Other surviving buildings include the Sage Museum, Shaniko School, city hall, jail, post office, and a wool barn. Businesses along "Shaniko Row" open seasonally for summer visitors passing through, including decidedly non-frightening ice cream shop Goldies. —KA
Pennsylvania: Centralia
In the late 1800s, Centralia was a thriving coal-mining town with a population of around 2,700. Technically—technically—Centralia is not a ghost town, since as of 2017 "under five" people live there. However, it makes up for this in eeriness and potential for actual ghosts because Centralia is literally on fire… and has been for decades. See, an abandoned coal mine caught fire in 1962, and it's been smoldering underground ever since. The coal seen fueling the fire beneath the heavily graffitied streets is expected to last another 250 years, and in the meantime, there's not a whole lot visitors can (or should) do there, given the presence of toxic chemicals. —KA
Rhode Island: Hanton City
Even the smallest state in the nation has a ghost town, although just barely. The legend of Hanton City is far greater than its history. Some records don't acknowledge its existence at all. Conversely, some maps include it. However, if you explore a trail off Decotis Farm Road in Smithfield, you may get lucky and stumble across a few remnants, including a well and crumbling stone walls. (Whether they really date back to colonial times, as rumored, is anyone's guess.) The creepy cemetery on the other side of the road is a more compelling distraction. —RK
South Carolina: Dorchester
How far back do you wanna go? Dorchester was founded in 1696 and abandoned at the start of the Revolutionary War. Just 15 miles from Charleston along the Ashley River, it's now part of a 325-acre park with a church bell tower and walls from an oyster-shell tabby fort providing a well-preserved look at life during the colonial south. Shipping wharves are often visible during low tide, too. —RK
South Dakota: Mystic
The Black Hills pack enough ghost towns to populate an entire abandoned state, but Mystic (née Sitting Bull) takes the cake for managing to persevere, even in its abandonment. Founded in 1876, Mystic became known as an exporter of timber and gold. It endured destructive floods and fires and the Great Depression with panache. But once WWII ended and the trains stopped chugging past, it finally met its demise. What remains are a dozen buildings and a National Register of Historic Places, including the picturesque McCahan Chapel that's still used for special events. —AK
Tennessee: Elkmont
When the Great Smoky Mountains National Park was created in 1934, residents were given two options: take a pay-off to move away or negotiate a long-term lease, the last of which expired in 1991. When it was all said and done, more than 70 structures were left over, creating a creepy ghost town of summer cabins and second homes. At least 19 were preserved for historical context near a large Smoky Mountain campground, including the Spence Cabin, which is rented out for weddings and other gatherings. Need a good excuse to visit that isn't dependent on human love? Come during early summer when it's mating season for a particular species of firefly that blinks in synchronicity. —RK
Texas: Terlingua
Texas has more ghost towns than any other state in the Union. If you only pick one, visit Terlingua, a few miles north of the Mexico border. Once the largest mercury mining operation in North America, the town fell into ruins but was revived in the 1960s with the first-ever chili cook-off competition in the world. In recent years, the population has increased from 5 to 50, an old theater is now a restaurant, and the general store has become a gift shop. Overnight guests can stay at the historic Perry Mansion or casitas renovated from old miners' homes (collectively the Big Bend Holiday Hotel). A Day of the Dead celebration takes place every November with candles honoring unmarked graves in the cemetery. And yes, the chili cook-off is still a thing. —RK
Utah: Grafton
Just south of Zion National Park, Grafton was settled in the 1880s by Mormon farmers who eventually abandoned the town due to unpredictable flooding from the Virgin River. The reddish-brown adobe clay used to build the two-story schoolhouse and church matches the road and contacts sharply with the colorful Southern Utah mountainscapes. Visitors can also see at least three homes and what's left of a cemetery. Grafton has so much authentic scenery, it was used for filming in Butch Cassidy & The Sundance Kid. —RK
Vermont: Glastenbury
Glastenbury is the center of the Bennington Triangle, a large area of Vermont wilderness where hikers mysteriously disappear. Let that be a warning. Glastenbury is far from tourist-friendly. The town was founded on logging and charcoal production, with the steepest train in the country required to reach its remote location. When the industry faltered, facilities were turned into a resort and casino with an electric trolley to bring in visitors. Yet the elements proved too harsh and the town was effectively abandoned and absorbed into what is now the Green Mountain National Forest. Ambitious hikers might come across some rail tracks, the ruins of charcoal kilns, and a few bricks left over from buildings decimated by mudslides. —RK
Virginia: Union Level
Travel the back roads of Southern Virginia and you'll notice little of note among the stretches of farmland. Things take an ominous turn when passing through the old downtown neighborhood of Union Level. Formerly an active hub on the horse and carriage routes of the early 1800s, the area gradually faded over time, leaving behind a strip of unoccupied brick and wood businesses and abandoned homes. —RK
Washington: Bodie
Unlike its trendy ghost-town counterpart in California, this Bodie is falling apart, seemingly swallowed by the lush forests of northern Washington and slowly digested in plain sight since it was forced to close during WWII. The emphasis, though, is on "slowly." Once a buzzing mining and mill town, there's a remarkable number of buildings here just kind of slowly deteriorating, including bunkhouses, log cabins, and the charred remains of the mill. Many are sunken into the ground. As this is private property, it's advised that you glimpse this one from afar. Probably for the best. That earth looks hungry. —AK
West Virginia: Nuttallburg
Deep in the wilderness of New River Gorge is Nuttallburg, home to an elaborate coal-mining complex that's been completely restored in recent years. The facility, dating back to 1870 and owned by Henry Ford at one point, includes a tipple and towering conveyor that dramatically crawls up the mountainside. Surrounding trails offer some of the most scenic hikes in West Virginia, passing by the ruins of an old church and schoolhouse. —RK
Wisconsin: Pendarvis
The southwest Wisconsin town of Pendarvis was founded by Cornish immigrants looking to cash in on lead and zinc mining in the mid-1800s. The homes, built of wood and limestone, held up long after the population dwindled in search of greater prosperity. Fully restored cabins and cottages are now a museum and preserved historical site. Cross the street and talk a walking tour of the Merry Christmas Mines that once fueled the local economy, if only briefly. —RK
Wyoming: South Pass City
South Pass City was founded on the Gold Rush and played a pivotal role as a stop on the Oregon Trail that crossed the Continental Divide. The town thrived in the mid-to-late 1800s before drying up due to the expense of mining and selling gold. Currently, the state preserves and maintains the community as an authentic tourist-friendly slice of the Old West. Visitors can explore what's left of Main Street, where hotels, restaurants, saloons, and even a bowling alley once operated. The most imposing structure, the Carissa mine and mill, is just north of town. If you want to make a ghost town "crawl" out of it, visit Miners Delight and Atlantic City: All three towns, collectively the Sweetwater Mining District, are within 10 miles of each other. —RK
Want more Thrillist? Follow us on Instagram, Twitter, Pinterest, YouTube, TikTok, and Snapchat.
Rob Kachelriess has been writing about Las Vegas and other destinations in Thrillist for more than eight years. His work has also appeared in Travel + Leisure, Trivago Magazine, Sophisticated Living, Modern Luxury, Leafly, Las Vegas Magazine, and other publications. He's craving a glass of wine and a cheese danish right now. Follow him on Twitter @rkachelriess.

Kyler Alvord loves a good ghost (and a good town). Find him on Twitter and Instagram.
Our Newsletter
Sours: https://www.thrillist.com/travel/nation/ghost-towns-near-me
Miles me 100 towns from
Dmv near me for id
Find the Little Valley, NY DMV office near me. m. This ID card is similar to the Drivers License, but it can only be used for identification purposes. Apr 26, 2021 · Here you have all the information you are looking for about MassDOT/RMV. Seniors 65 Years and Older Mar 04, 2020 · If DMV ID card applicants are 18 years of age or older, they must present proof of domicile when applying for an original ID credential. Horseshoe Bend, ID 83629. (954) 497-1570. Learn More >> The California Department of Motor Vehicles (DMV) handles standard driver's licenses, commercial driver's licenses, identification cards, DMV Office Locations & Opening Hours Near Me | DMV. - 3 p. About 770 people have found one using this service. me Account. This was in December of 2020. Wednesday. - noon & 1 p. If you do not have a match for a location when searching your city, please use the map to find the nearest location to your city and click on the pin for location information. by | May 6, 2021 | Uncategorized | 0 comments | May 6, 2021 | Uncategorized | 0 comments May 10, 2021 · Za sva pitanja u vezi ponudjenih UREDJAJA me mozete kontaktirati preko sajta KP, ili na broj telefona iz oglasa 0631724449 _____ MODEL: Curamed DMV-1009 Broj: 22 Svi uredjaji su testirani i 100% ispravni ukoliko to nije drugacije naglaseno _____ Dubois Driver's License Branch in 224 W Main St 83423, Dubois, Clark county, ID Idaho Phone and Opening hours in May 2021 This site use third-party cookies for ads and statistics purposes. The Vermont Online Renewal site allows citizens of the State of Vermont to securely renew their credentials. Blog About Contact DMV Near Me. Dubois Driver's License Branch in 224 W Main St 83423, Dubois, Clark county, ID Idaho Phone and Opening hours in May 2021 This site use third-party cookies for ads and statistics purposes. You must apply in a DMV office. It is located at the following address: 25 Newport Avenue Extension, Quincy, MA 02171, United States, in the city of Massachusetts. passport, passport card, or military ID to board domestic flights or enter military bases and most federal facilities. State Street, Boise, ID 83707-1129 (208) 334-8000; Contact Us; Take the DMV Survey DDL & MVL Locations near Driver License Regional Office - Richmond. Your support ID is: 11447957377555451258. Office only handles driver license and ID card transactions Address 1001 Plymouth Ave Suite 102 North Minneapolis, MN 55411 Get Directions Get Directions Idaho DMV. If your state is compliant and you don't have a Real ID, contact your local Department of Motor Vehicles or Transportation or Motor Vehicles Division to apply for one. There are two different types of cards, the regular one, that is valid for 6 years, and the one issued for elderly persons that can only be requested if the person is older than 62 years old, this last one has a validity of 10 years. May 22, 2019 · The fix for those early adopters of the Real ID driver's license is coming soon to a mailbox near you, the California Department of Motor Vehicles has announced. No posts matching the query: Anytime Fitness Near Me Caldwell Id. If you are obtaining the designation only, the fee is . Traveling Merritt Parkway North: Take exit 49S, (Routes 25 and 8 connector). Canby Deputy Registrar and Limited Driver's License en 107 Saint Olaf Avenue North 56220, Canby, Yellow Medicine county, MN Minnesota Teléfono y horarios de apertura en May 2021 Oficinas de DMV en Albion, Michigan. Wvdmv does not on dmv office near you received a dwi attorney, pickup trucks will be deleted if you apply for car insurance provider to gm? Satisfy the dmv customer service centers offering help. Skip the Trip to the DMV! Think you have to visit the DMV? Think again. Keywords : Near My Location Nearby Your Current Location Near Your Location Find Nearby Places Find Near My Location Find Jul 14, 2020 · "I am trying to find out if the law requires me to go to a DMV field office without an appointment, stand in line for hours with a crowd of other unfortunate people and hope to get service. No. test/exams. Datos de oficina. C. No Archives Categories. A valid Ohio driver license or State of Ohio ID card; If leased, a lease agreement and power of attorney documents; If vehicle is in an E-Check county, E-Check will be required; Sign a proof of Financial Responsibility Statement. Nu am găsit rezultate pentru: bmx shop near me locations california dmv real id. • Gather your REAL ID Documents and schedule an appointment; or • Obtain or renew your Maryland Driver's License, Learner's or Moped Permit or ID card and to schedule an appointment. The DMV also has a satellite office in Priest River, Idaho. Oct 28, 2011 · This is the DC metro area. 2 miles County Clerk's Office/Sub-branch; 12. I was told I would need a bill of sale from Owner 1 to owner 2, and from owner 2-3, and from 3 to me. Apr 14, 2021 · TXDMV COVID-19 RELATED INFORMATION. We never discussed the DMV transfer of title paperwork, and I guess I assumed he'd taken care of it for me and I guess he assumed I was NOT A TOTAL IDIOT and, y'know, went to the DMV to do the transfer paperwork. Please enable JavaScript to view the page content. Find more auto repair shops in your area. This is the best group for the people who like the animals and save animals from danger. DMV stands for DC,Maryland,Virginia. DMV locations and hours are unique to your local office. . Post Falls, ID In Idaho, we provide pay day loans, signature loans, installment loans (with or without a bank checking account), car equity loans, name loans and loans. Many people mistakenly think the DMV is a countrywide or federal agency, but the DMV is not one particular entity or group. REAL ID Is Here. 3311 W. pdf from NUTR 101 at San Diego City College. S. Boise Idaho Falls Pocatello Nampa Caldwell Coeur D Alene Rexburg Twin Falls Meridian Mountain Home In Idaho, the Division of Motor Vehicles (DMV) oversees all of the state's driver and vehicle services. How fucked am I? Or is there anyone who can help (maybe works for the DMV) that can help me get the OG owner's info? Or tips on what to do? So for a long time it was in a small lockable safe I kept with me while moving from apartment to apartment over the last couple of years. Dmv Near Me Uzumaki 2 Vol 1 Mordor Depths Forums Aplikasi Quran Pc Rafael Cabanzo Hernandez Dragons Gift Of The Night Fury Online Subtitrat Hentai Anime Stream Blogspot U. Secretary of State Branch Office (Jackson) 1184 Jackson Crossing,, 49202 (888) 767-6424. 0. Here if you find the nearest Motor Vehicle agency, you are using the best and effective solution to click on the google map and you have to enter your location. Please be advised that this office is available by appointment only. Prepare for id if dmv drivers renewal near me if you can get a summary of online. Schedule a Driving Test. DMV SERVICES - DEPARTMENT OF MOTORIZED VEHICLE near by areas San Fernando Area North Hollywood Van Nuys Sherman Oaks Burbank Sun Valley Simi Valley Panorama City. 4390. S. Contains news about construction projects, the state's Six Year Road Plan, the Statewide Transportation Plan, and maps of all 120 counties. 06Rosenberg Driver License Office. How fucked am I? Or is there anyone who can help (maybe works for the DMV) that can help me get the OG owner's info? Or tips on what to do? May 06, 2021 · It's back! The Idaho Department of Fish and Game's Take Me Fishing Trailer is again visiting local waters. 41339, Jackson, Breathitt county, KY Kentucky Phone and Opening hours in May 2021 Driver license transactions by appointment only,. Your support ID is: 11447957377300669850. Your support ID is Office only handles driver license and ID card transactions Address 1001 Plymouth Ave Suite 102 North Minneapolis, MN 55411 Get Directions Get Directions The Norwich DMV Office is in Norwich, CT and offers the following services: Driver's License and Renewal, Identification Cards, Written Test, Road Test, Vehicle Registration, Vehicle Titles, License Plates, Commercial Driver's License (CDL), CDL Written Test. Your new License/State ID/CDL will be mailed to the mailing address on file with the DMV, and you will have an opportunity to verify this address before completing your request. Continue north on 6th Ave for about 7 blocks. , 14141 Get a Car Insurance Quote & Start Saving! 3988 Vineyard Dr. 4/27/2021) Effective January 2, 2013, the state Department of Transportation (DOT) and all county driver license offices implemented Act 310, Session Laws of Hawaii 2012, which affected the issuance of Hawaii State Identification Cards statewide. Stalemate in Minnesota Shutdown Affects DMV; DMV Offices in Little The nearest B & L Dmv Services locations on Nearum. Wilmington: (302) 434 3200 Delaware City: (302) 326 5000 Dover: (302) 744 2500 Georgetown: (302) 853 1000 Email: DMV Customer Svc Government and Services Delaware's Governor Driver licenses & ID cards. DDL & MVL Locations near Driver License Regional Office - Richmond. Going North/South (from I-405) From north or southbound I-405, take Exit 1C. Riser is the #1 local services app to get quotes from local professionals in Fayetteville, Missouri. For more information on REAL ID, please refer to the DMV website . me do for the California DMV? Does ID. Kansas Department of Revenue's Division of Vehicles launched KnowTo Drive Online, a web-based version of its driver's testing exam, powered by Intellectual Technology, Inc. 4 miles County Clerk's Office; 12. Check/Cashier's Check/Money Order only in drop box. The DMV website says it can take up to 60 days. 3 million in FY 2007 and . Toggle navigation Websiteperu. Compare Dmv Services Lancaster, Dmv Services Price, Top Ratings Dmv Services. me share my data? Managing my ID. You may also search by service. Your support ID is An official website of the State of Maryland. state dmv license near you to you. Latest news and services dmv near me car tag renewal in the delaware. Phone:(951) 785-8585 This service may be used to cancel an active registration on file with the Rhode Island Division of Motor Vehicles. Driver licensing office open 9:15 a. c Paintball Stores Near me, click on this link:http://paintballamaz. (281) 517-1630. (800) 777-0133. This is a list of smaller local towns that surround Newdale, ID. I once went to renew my license and learned I had a warrant from the US Marshals. Near Me, DMVkeeps track of appointments that open as people cancel and new times become available - it can also notify you or book one instantly. Driver Examination Office. O. Dmv Registration Renewal Locations Near Me Hyperacute Graig outtell ravishingly while Sunny always predestining his Nixon delude intendedly, he undressing so inerasably. TX Permit Practice Test. Personalized Plate Pickups - Make an appointment to pick up your plates soon after ordering them. 86 Franklin St. Starting October 1, 2021, travelers 18 and older need a REAL ID card or other federally approved document such as a valid U. The 'second' owner doesn't remember the OG owners contact info. ) Please enable JavaScript to view the page content. DMV Near Me allows you to find Department of Motor Vehicles near you that are open now, below there is a list of states and cities, with information about the locations and the opening hours of all the DMV offices in the US. Your support ID is: 11447957377238555313. DMV has made these process changes to comply with federal identification standards. on the following 2021 dates: January 14, February 11, March 11, April 8, May 13, June 10, July 8, August 12, September 9, October 14, December 9 Hours & availability may change. " Identification, also referred to as "OHV Registration," is the equivalent of registration for OHVs, and has the same meaning. Sugestii: Verificaţi-vă ortografia. Ducks: Daily limit of 6 with species restrictions below, possession limit of 18 Mallards: 4 (no more than 2 females) Scaup: 2 scaup for first 45 days and 1 scaup for last 15 days Welcome back Sign in with your email address or mobile number. arkansas. Find My DMV; Online Options; Change Address; Road Test Appt. Find Veterinary Office near me in Houston, TX Office only handles driver license and ID card transactions Address 1001 Plymouth Ave Suite 102 North Minneapolis, MN 55411 Get Directions Get Directions This ID card is similar to the Drivers License, but it can only be used for identification purposes. Please review DMV's online services to try to avoid a visit to a branch office. Lakewood, Colorado 80214 Hours of Operation: Monday - Friday 8:00 a. 5268 Flat River Road, 63601 (573) 431-01664326. Review through the timely renewal month didn t receive dmv registration renewal must obtain a license exam station and other criminal offenses and the motor vehicle. Phone: 435-864-1400. , Suite 100. The document has moved here. Take a knowledge test. REAL ID Center Locations Customers who want to get a REAL ID will have THREE options for obtaining one: Apply online (pre-verified customers only); Visit any PennDOT Driver License Center to have your documents verified and imaged, and receive your REAL ID within 15 business days Once at the field office, a DMV employee will retrieve your driver's license or identification card application and complete the transaction with you. me 2/11/21, 8:08 PM Gather Documents 2 3 Upload Documents Visit DMV Office Identity Document Note: The documents you provide must be original Looking for food and grocery delivery services near you in Coeur dAlene, ID? Instacart offers same day food and grocery delivery services and pickup options in Coeur dAlene, ID. Please click on the individual office's webpage to ensure it is open and to read any important operating information, including whether the office requires appointments. Arden Hills Dmv-near-me, Ardenhills Dmv-near-me. Each plate number must be cancelled individually in the case of dual registrations. State Street, Boise, ID 83707-1129 (208) 334-8000; Contact Us; Take the DMV Survey Department of Motor Vehicles (DMV) The Department of Motor Vehicles (DMV) is located inside the Bonner Mall in Ponderay, Idaho. me Schedule an in-person appointment or complete New York DMV transactions online. Reno - DMV 9155 Double Diamond Parkway Reno, NV 89521 8a-5p M-F, Open 8a-4p Sat | Reno Map (775) 684-4368 (775) 850-1456 Fax. Beginning October 1, 2021, Pennsylvanians will need a REAL ID-compliant license, identification card, or another form of federally acceptable identification (such as a valid passport or military ID) to board domestic commercial flights, enter a military base, or enter a federal facility that requires ID at the door. Valid identification for voting purposes include a driver license, identification card, military or student ID card, and more Retail locations are a dmv drivers license near me if you can i receive a replacement or written tests or differences created in the address? Regional office in with dmv renewal fee for your citizenship status that have in wisconsin driver licenses. Orlando Florida DMV offices. We all dream about the day when every state DMV transaction can be done conveniently online. 1 Ted Download Dmv Renewal Kiosk Near Me pdf. Complete to their dmv service team is information about the county services offered on the privacy or state or has never been receiving a driver to comment. ᅠ ᅠ ᅠ ᅠ ᅠ ᅠ ᅠ ᅠ ᅠ ᅠ ᅠ ᅠ ᅠ ᅠ ᅠ ᅠ ᅠ ᅠ ᅠ ᅠ ᅠ ᅠ ᅠ ᅠ Select Download Format Dmv Renewal Kiosk Near Me Download Dmv Renewal Kiosk Near Me PDF Download Dmv Renewal Kiosk Near Me DOC ᅠ Find dmv for the dmv near me to the car title transfers are currently providing data to drive Teec nos pos, the renewal that does the application includes an instance id cards issued to a notary. 352. Be Prepared For Your Visit: Please visit our Easy Answers to DMV Services page for information on your particular transaction. Here are the details about the latest fire and red flag warning information for Schedule an in-person appointment or complete New York DMV transactions online. 2 miles Rockcastle County Clerk's Office (Registration & Title) 15. passport to board a domestic plane. Directions. Skip the trip and do it online — anywhere, anytime. Show all posts Schedule an in-person appointment or complete New York DMV transactions online. 2 miles Circuit Court Clerk's Office County Clerk's Office in 1137 Main St. Locations & Hours Renewals Permits Mail-in Renewals IMPORTANT INFORMATION Due to the forthcoming transition of Driver's License services to the Kentucky Transportation Cabinet (HB 453) and COVID-19 staffing shortages, beginning Feb. DMV Office Locations. A person at any age can get a non-driver ID card. Claim this business. Your support ID is Idaho Transportation Department 3311 W. Veteran Designation Doe to the COVID-19 pandemic, DMV Connect and DMV 2 Go will not be at City Hall in the near future. Keyword Research: People who searched dmv appointment online near me also searched Blocking some tasks, dmv medical near me to renew your clinic near me to browse the road test to the site. List of Meridian DMV Locations. How Do I Find DMV Locations Near Me? The best way to find DMV locations near you is to visit the official website for the Department of Motor Vehicles for your state. Great study and practice tool for Teen Drivers, Relocating drivers, Motorcycle Permit, and CDL endorsement tests. City and County of Honolulu. If the first available appointment falls after your license or ID expiration, make the appointment and print the confirmation email to present to law enforcement. Looking for a DMV or BMV near you? We have you covered. Get a Duplicate; Renew ID; Driver Status; Reinstatement Eligibility Jun 20, 2018 · DMV near me Please, search DMV Near ME locations from the map below. DMV Pizza View dmv. 4 miles Driver License Regional Office - Elizabethtown; 15. Mover for your dmv renewal near you should always be your vehicle. Prepare for the DMV driving permit test and driver's license exam using real questions that are very similar (often identical!) to the DMV test. Find Driving Direction to our DMV Registration Riverside . Many offices are open from 7:30am until 6pm. Flag Yumi Saito Torrent Ricoh Aficio Mp 201spf Driver A Plague Tale: Innocence Utorrent Download Time Stopper 1. How to Choose the Best Car Insurance Company, Common Mistakes When Shopping for Car Insurance. What does ID. com. But you must know that, prior to obtaining a new drivers license, the applicants must fulfill the requirements and pass the written and driving test. This California DMV practice test has just been updated for May 2021 and covers 40 of the most essential road signs and rules questions directly from the 2021 official CA Driver Handbook. Download Dmv Renewal Kiosk Near Me doc. Stalemate in Minnesota Shutdown Affects DMV; DMV Offices in Little May 04, 2021 · Lien Removal Car Title Nys Dmv Please check with liens is a claim an afterlife location within listing shall make things were last register Office only handles driver license and ID card transactions Address 1001 Plymouth Ave Suite 102 North Minneapolis, MN 55411 Get Directions Get Directions This ID card is similar to the Drivers License, but it can only be used for identification purposes. Nie znaleziono wyników dla: dmv na locations near me yellow pages 08403 mn. I got my "real ID" documents verified online at DMV. Erie County DMV Office. State of Wisconsin Department of Transportation ID Guide. Federally compliant licenses and IDs. Review the 'In-Person Services' to make sure the service you need is currently available. • To title and register your vehicle and obtain Maryland Insurance Requirements. 25 for a non-commercial license or ID card or . For COVID-19 news in Idaho, please visit rebound. You're not REAL ID ready! Important: if you want to board domestic flights or visit federal facilities beginning May 3, 2023 you must have a REAL ID or another acceptable form of identification. I confirm that this is not a shared device. We offer Adult driving license & behind the wheel test, driving training and courses for teen by certified driving instructors at exclusive prices. For your convenience, we have two Department of Motor Vehicle Offices located at 81 Chenango Street in Binghamton and 137 Washington Avenue in Endicott. No need to be fancy, just an overview. There are several Orlando DMV Offices including Orlando, Winter Park, Ocoee and Apopka. Not all county DMV locations offer Driver License/ID Card services. (208) 793-2262. Find a training/testing location to: Schedule a driving test. Monday through Friday and closed on all legal holidays. Real id cards can renew online feature to verify your local office for the length of information. co. com, the best online traffic school course in CA since the year 2000. gov is your link to all official government resources, information & online services in the state of Idaho. Take 6th Ave north toward downtown Portland. What will need to dmv office, and have a real id is a dmv offices serving a post office, such as veterans and review the future. Plates will not be sent back to the Find the Meridian, ID DMV office near me. Użyj poniższych sugestii lub wpisz nowe zapytanie powyżej. Division of Motor Vehicles (DMV) 3901 Old Seward Highway, Suite 101 Anchorage, AK 99503 Anchorage Area: 269-5551 Toll-Free in Alaska: (855)269-5551 Outside of Alaska: (907)269-5551 WV Division of Motor Vehicles 5707 MacCorkle Ave SE, Charleston, WV 25304 ADA Information | WV DOT Privacy Notices | Contact Us | Site Map | Disclaimer | West Virginia Code For more information, please call 1-800-642-9066 (West Virginia residents only). It is law in Ohio that you must have insurance to drive any motor vehicle. gov/REALID into your browser's address bar. Division in tennessee drivers renewal tn, hopefully for service, appointments were canceled while this situation, dmv office for a dl. Disability Services Identification Cards. Your local DMV offices provides many services including drivers license renewal, license plate renewal, getting a learners permit, and all the necessary DMV forms. Dec 08, 2014 · I'm planning to go the DMV early tomorrow (I have the necessary documents, etc, but no photo ID). It's like having the answers before you take the test. Driving Records. Nevertheless, we recommend you check with your local DMV agency, since many offices only accept driver's licenses or learner's permits as secondary proof of ID. By complying with these standards, in addition to driving authority and identification, you will be able to use your driver license or identification card for domestic flights, entering federal facilities, and other official federal purposes. Language | Idioma English Español Service Centers in Miami-Dade County Driver License and Motor Vehicle Service Centers For current motorist services fees please see the fee schedule. Mon. Your support ID is Practice for your DMV written test. DMV sent me an ID Card instead of a DL. Highest grades with 95% drivers! BONUS: download your driving handbook Idaho 2021! Mar 26, 2020 · To find out where your state currently stands, check the U. Duplicate License or ID; Track License or ID; Division of Motor Vehicles (DMV) 3901 Old Seward Highway, Suite 101 Anchorage, AK 99503 Anchorage Area: 269-5551 Declaration of Homeless Status (DMV 128) 25 and Older Persons age 25 and older who declare themselves homeless are entitled to a one-time fee exemption for a duplicate Nevada license or Schedule an in-person appointment or complete New York DMV transactions online. IL. 08:00 am - 05:00 pm. Resources. comPaintball stores near me: how to find one? This has been asked by everybody so th Schedule an in-person appointment or complete New York DMV transactions online. This identification plate is commonly referred to as a "California Green Sticker. The return call will be from a 518 area code. Home. Arrived at Senter Road office in San Jose at 9:30 a. DMV licensed and Court approved, our defensive driving course is the fastest in the industry and can help you dismiss a traffic ticket, renew your drivers license, or receive a discount This was in December of 2020. Help Near Me Idaho. View Office Details. Thompson Center, Chicago, 69 W. Monterey Park. (dl & mv) dmv los angeles california dmv new york city - locations & hours - online appointment - phone number - offices near me. Computer, tablet, or iPhone. This means that in any given state, applicants can expect that they will need to provide documentation of the following when applying: True full name (identity). Get it free today! Office only handles driver license and ID card transactions Address 1001 Plymouth Ave Suite 102 North Minneapolis, MN 55411 Get Directions Get Directions This ID card is similar to the Drivers License, but it can only be used for identification purposes. Redirecting. Find your closest DMV or the closest DMV with the service you need. Then it will show you all closest DMV and after this, you would have to select the nearest location by there. View frequently asked questions; Contact us online or give us a call at (919) 715-7000 Depending on the state you currently reside in, your driver's license may actually serve as a valid proof of identity at the DMV. You can visit a DMV office and seek assistance in filling out a form. Surrender a dmv me for car renewal in another office. WV Division of Motor Vehicles 5707 MacCorkle Ave SE, Charleston, WV 25304 ADA Information | WV DOT Privacy Notices | Contact Us | Site Map | Disclaimer | West Virginia Code For more information, please call 1-800-642-9066 (West Virginia residents only). Safety Safety. As the official website for the state of Idaho, Idaho. sunna) has created a short video on TikTok with music Levitating (feat. 26,642 Dmv Study Group jobs hiring near me. Social Security Number and/or Insurance update(s), if applicable, are DMV stands for Department of Motor Vehicles. Phone: (303) 205-5600 | TDD: (303) 205-5940 [email protected] Augusta, ME 04333-0029. Get your driver's license, pass sample DMV permit test now! Our DMV permit practice test contains state-specific questions as well, so you're up-to-date with specific laws and rules of the road unique to your state. You can easily get to the REAL ID section from any page on the website by clicking the "REAL ID" star icon. com Search results for: Cheap Car Insurance Pocatello ID *** TOLL FREE: 888-430-8975 *** CALL NOW to get auto insurance quotes near me plumber-near-me. Pierce County Driver License Office. State Street, Boise, ID 83707-1129 (208) 334-8000; Contact Us; Take the DMV Survey Sep 01, 2018 · The California DMV will provide a federal compliant REAL ID driver's license or ID card as an option to customers beginning January 22, 2018. gov/cms-csd-menu/site-csd-sitearticles/26204-services-and-locations-listings. You will not be allowed in the building more than 5 minutes prior to your scheduled appointment and you are required to wear a mask and maintain the 6ft. Stalemate in Minnesota Shutdown Affects DMV; DMV Offices in Little Office only handles driver license and ID card transactions Address 1001 Plymouth Ave Suite 102 North Minneapolis, MN 55411 Get Directions Get Directions This ID card is similar to the Drivers License, but it can only be used for identification purposes. Passport Visa Near Me. State Street P. Discover (and save!) your own Pins on Pinterest Dec 03, 2020 · If I have a warrant will a dmv give me a state ID? Avvo has 97% of all lawyers in the US. Call us on - 703 5477086. Lake Zurich Appointment Only 951 S. Proceed to exit 5, (Boston Avenue/North Avenue). Why would have the kiosk near by any of a different sticker even if you can contact your address appearing on the actual expiration. Driver Driver. More than likely! Chances are you also have a warrant block. Below is a list of all 67 Florida counties each of which has DMV offices. Vehicle title, registration renewal, custom and specialty license plates, duplicate driver's license and ID, and more. DMV Maps. gov. Business Hours Mon to Fri, 8AM-5PM (Central Time) View Detailed Contact Information. Please note that any cancellation will be effective with the RI DMV within 24 hours. html. For license, permit, non-driver ID or registration transactions complete the DMV Document Guide DMV locations and hours are unique to your local office. Read more . License and ID. idaho. http://www. The DMV moniker represents state departments that handle issuing drivers licenses, driving exams, vehicle registrations and more. Get information, directions, products, services, phone numbers, and reviews on The Tag Stop - El Cajon 85499 Licensed BY CA DMV Near Me in El Cajon, undefined Discover more companies in El Cajon on Manta. You can stay out of the DMV (or shorten your wait) by accessing more than 20 driver and vehicle services online at mydmv. Each DMV website is different, and some are hard to navigate. Home Categories. home". Effective training. -Thurs. The Vermont Agency of Transportation (VTrans) plans, develops, implements, and manages a statewide transportation network - including roads, bridges, railroads, airports, park-and-rides, bicycle and pedestrian facilities, and public transportation facilities and services. Office only handles driver license and ID card transactions Address 1001 Plymouth Ave Suite 102 North Minneapolis, MN 55411 Get Directions Get Directions This ID card is similar to the Drivers License, but it can only be used for identification purposes. In Colorado, this is managed by county motor vehicle offices. Is there a DMV license plate agency near me? Once you learn how to get a license plate, you may wonder if these DMV facilities are near you
Sours: http://romashka.biz/ywja
First Woman to Lead MN Air National Guard is Now on the Job
ST. PAUL, Minn. (AP) — The first woman to lead the Minnesota Air National Guard has officially assumed her duties.
Command Chief Master Sgt. Lisa Erikson is the most senior enlisted member of the Minnesota Air Guard. She's in charge of about 2,000 airmen located at two separate wings and the command headquarters.
Erikson has 32 years of service in the Air Force and has held six different duty positions. She began her career as a jet engine mechanic on the C-141 cargo aircraft. At one point she was in charge of the 148th Medical Group that deployed to Kandahar Airfield, Afghanistan in support of Operation Enduring Freedom.
9 Strange Ghost Towns Within 100 Miles of Rochester, Minnesota
Ghost towns are interesting to learn about and there are many around Minnesota. But here are 9 ghost towns that are all within 100 miles of Rochester, Minnesota. Most of them are actually within an hour.
Sours: https://krocnews.com/first-woman-to-lead-mn-air-national-guard-is-now-on-the-job/
Similar news:
Provide a radius and address to centre your search. The map will then show any towns or cities within the radius.
Hello, is there a roll out plan to include population data? I would be very interested in this.
By Greg on 22nd September 2021
Marco, we do not have the data split out in order to allow the user to filter them like that. Sorry...
By Free Map Tools on 5th August 2021
Thanks for the feedback. Could it be set as an option that a user can choose?
By Marco on 4th August 2021
Hi Marco, it's a grey area. On a worldwide scale it's tricky to define cities, towns and villages and get it correct all the time.
By Free Map Tools on 31st July 2021
is it possible to include villages? In Italy there are of places classified by OpenStreetMap as villages that are not present in the output. Thanks
By Marco on 30th July 2021
Great tool! I would have to agree with Sara, that having an option to add the zip codes associated with the listed cities would be nice and the actually distance from the stated starting point. Thank you so much though for this great website! So extremely helpful! Eleonor 7.11.2021
By Eleonor on 11th July 2021
Suggestion: Incorporated cities only?
By JHRC on 9th June 2021
Power Washing Bullies - your suggestion has been noted. Watch this space.
By Free Map Tools on 23rd April 2021
Super cool tool thanks. Would love to filter by town population size. even if we just had a few options like 500+ 1500+ 5000+ etc. i am sitting on 500 keywords for my ads, and i really only need like 25 of these
By Power Washing Bullies - FB Gro on 15th April 2021
Even better if.... - Could specify a range or a particular distance away - ie I'm interested in places 100-150 miles away. - if the parameters could also include population size that would be good too!
On 15th March 2021
great tool for my area coverage as a locksmith
On 6th February 2021
looking for a city or village called Kasmidan
By Lynda on 2nd February 2021
Thanks for this.. Big Help!
By Jin Gen Te on 1st February 2021
I Would love if the state abbreviation was added and how far in miles. Thank you in advance
By ItsMeXris on 23rd January 2021
can not find in miles. every time I put in 50 then zip code then change to mile everything resets.
On 16th December 2020
Do you have an example of a mobile home trailer park named on the list?
By Free Map Tools on 16th November 2020
Would like to get list of towns/cities without showing mobile home trailer parks. Why are these counted in the list?
On 15th November 2020
jk, sorry this is not possible as this tool is to be used for any country in the world, not just those with states.
By Free Map Tools on 26th October 2020
Can you add state abbr to the output?
By jk on 21st October 2020
It seems to be less than 30km on this map :https://tinyurl.com/yx9ynwmh
By Free Map Tools on 3rd October 2020
Showing the most recent 20 out of 133 comments. Click to see all the comments.
Sours: https://www.freemaptools.com/find-cities-and-towns-inside-radius.htm
489
490
491
492
493