A Tudor home is an English traditional design style that is both warm and comfortable; it was named for the Tudor monarchy who reigned from 1485 through 1603. You can recreate a Tudor interior even if the exterior isn't Tudor. The modern Tudor design is called "Mock Tudor" and is a very popular design choice.
Designing Around Dark Wood
If you aren't a fan of wood - specifically dark wood - then the Tudor style is not for you. The Tudor style is immediately recognized by its use of stucco accented with dark wood rails.
Related Articles
Ceiling Styles
Tudor ceilings were also called cathedral since they mimicked those of Gothic styled cathedrals.
Box Beams
Box beams stained dark served as both structural support and an aesthetic. If you have a high-pitched or cathedral ceiling, then add authentic-looking wood beams. In today's décor, you can use faux beams that are lightweight and easy to add to a modern ceiling, although a high ceiling is best for this design treatment.
Coffered Ceiling Tiles
Coffered ceilings were stained dark like the other woodwork. If you prefer, you can always paint the ceiling to avoid creating too dark a room.
Ceilume sells coffered ceiling tile that can be installed with a drop ceiling grid in a variety of colors.
Tilton Coffered Ceilings offers several options for customized ceilings.
Wall Treatments
Some of the interior walls also repeated the stucco and rail look found on the exterior; however, the majority of the walls were made of stone and plastered over with wall paneling applied. In addition to the panels, you have several other options for creating an inviting modern home with Tudor style.
Paneling
The epitome of Tudor style was wall paneling consisting of squares or rectangles. These were made mostly from oak that was stained dark. The paneling covered the entire wall height or two-thirds of the height in what's called wainscot. Prefabricated oak panels from Tudor Artisans can be made to your specifications and are also available in cherry and lyptus.
Warm Paint Choice
While Tudor homes typically used a whitewash on the plaster walls, modern choices offer a large selection of colors. Choose a color that will help brighten the sometimes dark, drab effects from traditional Tudor design.
To contrast with the dark wood paneling, use equally warm colors from yellow, amber, gold, or red.
To offset the intensity, paint the walls in a light hue with your warm color choice.
Popular accent colors included various blues and greens.
Wallpaper Options
In some rooms, you may prefer a wallpaper. The Tudor rose was the emblem that marked the end of the War of the Roses (English civil war) and was adopted by the Tudors royals. However, scenes and other floral options were also available. Selection may include those from these retailers:
Wall Décor
The walls of Tudor homes also displayed tapestries and rugs that were hung on the walls. Lots of pastoral, hunt scenes, and other medieval designs, as well as Renaissance ones, are available through Medieval Wall Tapestry that you can use to accent your home's walls.
Window Treatments
Depending on the architecture of your home, you may be able to use an "oriel" window. This window style appears to float from the wall and is shaped like a bay window. It's supported by corbels and will give you space inside for displaying art objects, photos, or plants.
Lead Windows
Windows were typically mullioned. A mullion is a vertical piece of wood or stone placed between the glass pane units. This was used in cathedrals where the panes were arched, although rectangle shaped windows were also mullioned. The panes were leaded in a grid or diamond pattern or stained glass.
Anderson Windows and Doors sells diamond and grill Tudor style windows.
Going Lighting carries a Tudor stained glass in the classic color palette from Meyda Tiffany Lighting.
In addition to wood panels, Tudor Artisans carries reproductions of Tudor geometric lead glass designs.
Textile Patterns
Draperies were heavy and made of velvet or tapestry fabrics to block the cold drafts from windows. Matching curtains were often used over doors and surrounding beds to further block drafts. Textiles with patterns and appliques can provide detail in a room with dark wood and large furniture.
Wayfair carries Tudor styles from Debage Inc. that includes a light colored sheer panel with appliques and a high sheen velvet option in blue with appliques.
Decorators Best sells the Tudor Rose chocolate pattern fabric that you can use in your design to infuse an authentic ambiance to your room décor.
Decorative Fabrics Direct carries toile patterns in lighter colors that are also very popular for use in bedding, draperies, pillows, and upholstery.
Brocades were also a popular pattern choice, so consider the black-silver fabric from Jo-Ann Fabric and Craft Stores.
Floors
The flooring used during this era were wide plank oak floors, brick, and stone. Floors were covered with wool rugs.
Overstock sells a porcelian-colored 100% wool classic Tudor design rug that's perfect for breaking up rooms and adding warmth to floors.
Shades of Light sells the Tudor window grill pattern rug in several colors, making it a good option for a pop of color.
Furniture
Tudor furniture styles were made from local oak in a dark finish. The heavy furniture was more ornate than its predecessors with decorations hand-carved into the wood.
Four poster beds were the normal with the luxurious mattresses made from feathers instead of straw.
Trestle tables were sturdy and large and often used with benches or upholstered high-backed chairs.
Sideboards were all the rage and china plates could be displayed.
Purchase reproductions of the furniture from UK-based companies like Tudor Oak and Arttus. Just be sure you check their shipping, delivery, and pricing policies before placing an international order. Antique-lovers might want to check out 1stdibs, which highlights antiques available in your desired price range, category, location, and time period, on one website.
Fireplaces
Not just a focal point, the fireplaces was the hub of warmth in very drafty castles and homes. Mantels were ornately hand-carved with a slightly polished finish or made from stone or marble often with an arch motif.
Accessorize Your Tudor Home
Accessoring a Tudor home means seeking pottery and metal work. Select objects made from metal, such as pewter and wrought iron. Crewelwork, a type of embroidery stitch, was created for wall hangings and pillows. Everyone home had a family coat of arms displayed and pewter was the go-to metal for housewares, especially tankards.
Bring Tudor Style to Life
The lives of the Tudors were greatly improved with modern textiles and home fashions. Glass windows brought a new way of seeing the world and home interiors were rich with new housewares. You can enjoy this historical time period with any of these design options in your home.
© 2021 LoveToKnow Media. All rights reserved.
Sours: https://interiordesign.lovetoknow.com/Interior_Design_for_Tudor_Homes
10 Ways to Bring Tudor Architectural Details to your Home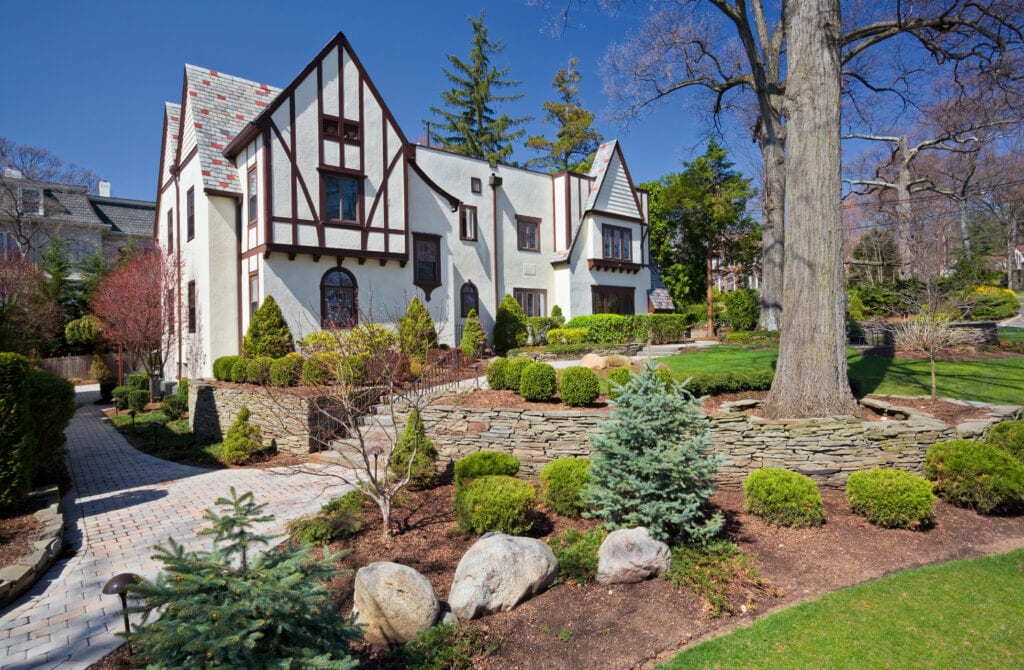 orava / Getty Images
If you're a fan of romantic movies, children's fairytales and architecture that feels like it's right out of your favorite novel, Tudor style homes are probably the epitome of these memories.
Tudor architectural details are not necessarily from the Tudor England style of buildings in the 16th century. When most homeowners refer to this style of architecture they are referencing the style made popular in the United States in more modern times. The 19th and 20th centuries had beautiful examples of this nod to medieval English architecture as well as the details that made cottages and early century mansions what they are today.
If you'd like to bring Tudor architectural details into your exterior and interior home, here are a few ideas.
1. Bringing the iconic half-timbered structure to your exterior home
Perhaps there is no more recognizable detail than the half-timbered facades of Tudor style architecture. Half-timbered refers to the timber structure staying exposed to the exterior and being filled, creating a "false" idea of what the structure is really made from. Whether stone, stucco or wood this feature is taken from medieval European homes that featured this iconic style. Use can imitate this style by using timber or exposed structure on the façade of your home to recreate the look.
2.  A series of steep gable roofs create a "gingerbread home" appeal
Tudor homes all share a common architectural detail – their steep gable roof pitch. These rooflines create a cottage or gingerbread home aesthetic that is loved by many. The Tudor architectural style can mix an eclectic mixture of material facades to produce a mixture of beautiful curb appeal ideas for your architectural taste.
3.  Cross gable roof lines give architectural appeal from multiple facades
In addition to the high pitch slope rooflines, Tudor style homes offer feature cross gable roof lines for added height and architectural appeal from the exterior and interior spaces. The ability to see rooflines on the each side elevation is a treat for many homeowners who love Tudor architectural details.
4. Modern-day Tudor Revival mimics the Tudor Dynasty of the 1500's
Similarly to many American architectural styles passed through from generations, is also called Medieval Revival style. Characterized also by the tall, narrow windows and small window panes, Tudor Revival style in modern-day homes are often mixed with modern day cladding such as brick, flagstone and stucco for a modern nod to old world Tudor style.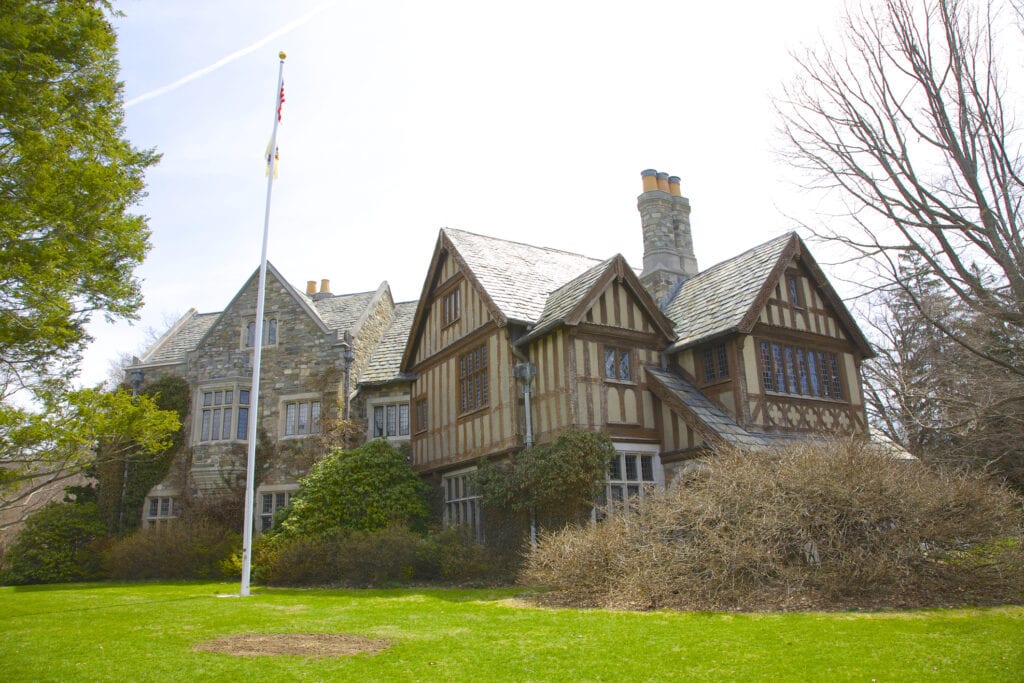 Barry Winiker / Getty Images
5. Tudor architectural details in your outdoor landscaping
While you may only think about Tudor style details on the façade of your home, don't forget about your exterior amenities such as fencing, pool houses, and stone or brick walkways.  Well-manicured hedges and shrubbery often line stone driveways and outdoor entertaining areas of Tudor homes. If you're trying to bring this outdoor living style to your home, try some of these hard and soft scape ideas.
6. Bringing interior details into your Tudor-style home:
Once your outdoor home has the Tudor exterior aesthetics what about the interior of your home? In the early 1920's – 1940's in the United States, Tudor style homes graced some of the most palatial estates across New England and northern states. Interior amenities such as high ceilings with exposed heavy timber ceiling beams, small windows and attention to detail in woodworking was paramount. Look to these finishes when trying to incorporate inspiration into your Tudor-style home.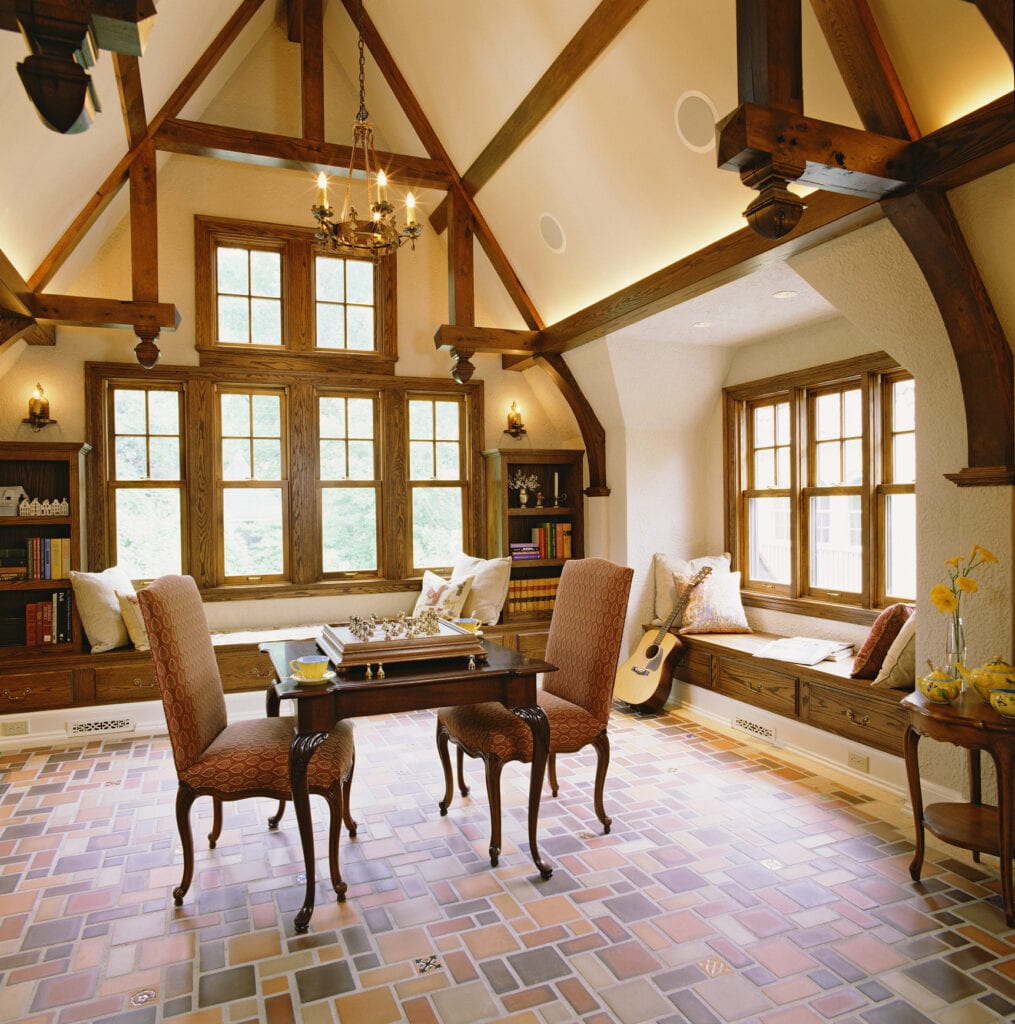 Andrea Rugg / Getty Images
Shop These Products Now: Modern Table Lamp – Bookcase
7. Kitchen details featuring old world style
The kitchens in the early nineteenth century had craftsmanship details such as custom cabinetry with wrought iron and wood being the primary choice of materials. In modern day Tudor homes several cabinetry manufacturers mimic the style of these cabinet details with custom islands, wrought iron lighting fixtures. The Gothic arch was flattened and made into a more rounded arch and became a signature shape in many Tudor style details in everyday kitchens.
8. Interior Tudor-style cues for your modern day home:
If you are considering renovating an older Tudor home or just like the appeal of certain details – here are a few details to include:
Oriel windows are like floating bay windows that extend past the face of the exterior home.
Plenty of windows to allow natural light in. Rectangular windows with small lites and mullions were the most common.
Lead glass windows also used diamond shape or grid patterns on them to keep up with the geometric symbolic shapes throughout Tudor period design.
9. Tudor materials to incorporate into your home
Architectural materials were a big part of Tudor interiors and exteriors. Natural materials such as rock, plaster, oak wood, stone were amongst those for the exterior and metals like copper, wrought iron and walls were often covered with wood 2/3 of the way up the wall with plaster above. Try adding these gorgeous finishes into your home to feel the warmth of the Tudor-style period in your home.
10. Add warmth to your home with Tudor influences
Reminiscent of the fairy tales, Tudor style homes reflect a historical period where craftsmanship and quality of building was at its pinnacle. From exposed timber ceiling beams to fireplaces with rustic stone surrounds, there is nothing quite like a Tudor home! Use these 10 ideas to bring this sought after style to your home. Freshome readers, what do you love most about the Tudor-style period?
Sours: https://www.mymove.com/home-inspiration/decoration-design-ideas/ways-bring-tudor-architectural-details-home/
The next major project was utilizing the outdoor space, as the home sat perched on a 20,000-square-foot lot. "It's easy to overlook, but the landscaping made as dramatic a transformation as the interior," adds Sapna. For the occasion, the two partnered with Jonathan Froines to design a bright and open outdoor space where form follows function. "The front yard was drab and overgrown with two very large ash trees dominating the entire front elevation. While it was a hard decision to take them down, we wanted to keep their history alive and did so by recycling the stumps for our hilltop picnic area," says Sapna. The backyard itself is composed of different areas that flow together: a deck for lounging, an elevated dining area lit by twinkle lights overhead, the hilltop picnic area accessible via a private hiking trail that was built into the hillside, and a European-style alley between the main house and the garage.
At the end of the day, the couple think of the home as their dream project—with an undeniable flow and a synergistic relationship between the indoors and the outdoors.
All products featured on Architectural Digest are independently selected by our editors. However, when you buy something through our retail links, we may earn an affiliate commission.
Sours: https://www.architecturaldigest.com/story/inside-a-modern-tudor-home-reinvented
Leonardo DiCaprio's Interior Designer revived this 1926 Los Angeles English Tudor home!
The charm filled English Tudor is an eclectic mixture of early and Medieval English building traditions that create a picturesque, traditional appearance.With its storybook details and countryside charm , it is truly a rustic and romantic style.
Tudors—typically British-style homes with pitched gabled roofs, large chimneys, latticed windows and often, black-and-white facades, sprang up in England during the 16th-century reign of the Tudors and the style permeated all class levels. Tudor revival occurred in North America in the late 19th and early 20th century and it became thought of as a symbol of wealth, as affluent Wall Street executives built large Tudor homes. The style became a symbol of old money and conservatism.
The key distinguishing characteristic of a Tudor style house is the use of decorative half timbering, which means that building timbers are partially exposed, surrounded with stucco, plaster, or brick. In the medieval era, these exposed timbers were actually a critical part of the structure, but the modern Tudor style house has other structural supports, making the timbers purely decorative.
Tudor homes range from elaborate mansions to modest suburban residences. If you yearn for medieval romance and want to incorporate Tudor architectural details into your home's interior, consider the tips found on this site. There are images of authentic Tudor homes and new homes that have successfully brought the old world to their interiors. Hopefully you will get some ideas of things you too can do to create this look.
Thornewood Castle


The Tudor period marked an age of prosperity, money from expanding trade, and the gift of land to Royal favorites enabling them to build lavish houses.
Thornbury Castle
www.vahistorical.org
Ascott House
Castles gave way to the style we associate more with Tudor architecture.....the half timbered facade
www.telegraph.co.uk
Although brick and stone are the most common types, stucco wall cladding plays a significant role in the Tudor style as well.
www.everytrail.com
via pinterest
Medieval homes in Europe featured walls in which the spaces between the supporting timbers were filled, leaving the structure exposed. Adding decorative half-timbering is a simple, inexpensive way to get a Tudor look.
www.stuartinteriors.ltd.uk


Warm colors abound in English Tudor interior design, with a few blues and greens used to create a cool-tone balance. Crimson, yellow and orange are almost always present somewhere.
williamreubanks.com
Walls should be adorned with tapestries and embroideries. I have purchased several beautiful tapestries on Ebay. Go to the UK site....the best treasures are there.
periodfurniture-carved.co.uk
Ann James Interior Design
The fireplace surround is center stage in this updated Tudor style living room. The design is Tudor and should be stone or tile.
via pinterest
When decorating a home in in this style, use heavy, ornate wood furniture such as trestle tables, benches, heavy chests and carved four-poster beds.
www.roomzaar.com
When furnishing your Tudor home, look for sofas will bullion fringed skirts and also tufted furniture.


Another good sofa choice is the Chesterfield.
A typical Tudor hall. Notice the rustic style of the chandelier.
source unknown
This room is perfection and encompasses so many elements of Tudor design, from the ceiling to the window treatments.
shakespeare.org.uk
Wightwick Manor, England
Stained glass with heraldic and ecclesiastical motifs are very much a part of Tudor decor.
via pinterest


Old World Tudor manor banister with dark wood wainscot
www.frontdoor.com


Although some Tudor homes feature double-hung windows, they almost always have at least one set of casement windows. The windows also are usually tall and narrow, typically have multiple panes and are often clustered together.
Many Tudor interiors featured linenfold paneling. It was thought to stiffly resemble folded linens.
williamreubanks.com


Long galleries were used to display portraiture and taxidermy trophies.
If there are no exposed beams or rafters, install decorative ones. Flooring choices are Wide-plank floors , stone or brick, or even harlequin like this.
smithhotels.com
source unknown
Windows don't have to be enormous to give the Tudor look to your home.
nationaltrustimages.org.uk


The cupboard with the folding bed in the Oak Room at Wightwick Manor
flickr.com
elledecor.com
The one design feature that defines English Tudor decor is wood. From furniture to exposed beams, paneled walls to ornate carved mantels, an English Tudor-style home without wood simply doesn't work.
theinteriorarchive.com
Overall, Tudor interior decorating is a warmed-up, cozy mix of elements. These include classic English Tudor designs and even pieces from Gothic Europe, Italy and Asia.
visitcalderdale.com
architectdesign.blogspot.ca
google.dk
In the interior of the home, warmer stained woods are most common. The wood has a slightly polished sheen yet it's still worn in appearance, giving the look of something that's aged but well-kept.
ageofuncertainty.blogspot.com
huntersandgatherersathome.bl
Truly authentic Tudor houses usually feature at least one set of leaded glass windows, in which metal casings hold together the individual panes as in the window above. Usually there are large displays of glass in very large windows several feet long. Glass was expensive to make in this period and the richer one was, the more windows one could afford. Also there was the presence of rich oak paneling, plasterwork and fabulous ceilings.
artandinterior.blogspot.com
Many ceilings and walls were hand painted. Decorative symbols of Tudor rose, thistle and fleur de lys were popular.
flickr.com
Mantle pieces are heavily carved.
yahoo.com
Sours: https://eyefordesignlfd.blogspot.com/2014/02/decorating-tudor-style.html
Decor tudor
When a person makes reference to the Tudors, we might immediately think of Henry VIII and the wives he treated so miserably. However, most people might not be aware that during the time Henry sat upon the British throne, a very distinct style of architecture came into vogue. The Tudor and Tudor-style aesthetic was so prevalent internationally for so many years, that the chances of you having been exposed to it is almost certainly 100 percent. So if you don't know what a Tudor-style house is, not to worry. With the help of ELLE Decor A-List designer Steven Gambrel and his wealth of knowledge, we've pulled together a primer (do you feel like you're back in English school?) on Tudor-style homes.
---
History of Tudor Style Houses
These eclectic, asymmetrical homes reflect late Medieval and early Renaissance motifs, and (perhaps not surprisingly) European-trained architects ushered Tudor-style into America in the late nineteenth century. Tudor-style homes saw a surge in popularity during the 1920s and 1930s—and, essentially, became part of the "starter pack" for financially successful stockbrokers—before losing the popularity contest to the Colonial Revival style around World War II.
---
Defining Qualities of Tudor Style Architecture
Hallmarks of these houses include steeply pitched gable roofs, brick exteriors, hand-hewn half-timbering, masonry and stonework, and leaded glass windows. ELLE Decor A-List designer Steven Gambrel says that for Tudor-style homes, an unparalleled level of quality is the name of the game. From the heavy slate roofs to the plasterwork to the beautiful stonework around the door frames, the emphasis is on permanent materials and an evident architectural framework.

---
The Cons
But every rose has its thorns, and life in a Tudor house isn't always a Medieval-inspired fairytale. Gambrel notes that the drawbacks are a lack of natural light and architectural proportions that are somewhat heavier than the modern eye typically craves. Plus, if you were to renovate one of these historic buildings, Gambrel says, "You would need to replicate the quality and materials that are as complex and layered as the architecture." No small feat.
---
Decorating Tips
As an expert designer who is currently designing the interiors of a Tudor-style home in Maryland, Gambrel has a few sage suggestions for decor: "When the house has a superfluous amount of stone, timber, and mason work, I tend to gravitate toward materials that aren't represented in the home and textures that handle the weight of the architecture." Think: patinated bronzes and Belgian linens; less timber and more parchment; less wood and more paint. However, Gambrel notes that decor plays a secondary role in these homes—architecture is the lead performer. "It's not for the weak at heart: It's not a white box and it can't be stripped down or edited," Gambrel says. "A Tudor-style house has to be celebrated."
Samantha SwensonEditorial Assistant, ELLE DecorSamantha Swenson is an editorial assistant for ELLE Decor, covering interior design trends, travel, and fashion.
This content is created and maintained by a third party, and imported onto this page to help users provide their email addresses. You may be able to find more information about this and similar content at piano.io
Sours: https://www.elledecor.com/design-decorate/a28119312/tudor-style-homes/
Design Stories: The Tudor Black Bay
.
You will also be interested:
.
599
600
601
602
603